Successful companies see inbound marketing as a direct influence on revenue generation.
Too many manufacturers settle for mediocre growth because they allow fear of change to keep them stuck in a rut. They may feel that shaking up stale marketing operations or upgrading systems is too risky, costly, or time-consuming.
With a commitment to digital transformation, building a valuable brand, educating your market, and becoming a leader in your niche is possible with inbound marketing. It can invigorate employees and leadership, and it can open up your offerings to a whole new avenue of businesses that are excited about what your solution has to offer. Thinking strategically and having an open mind breeds progress and success.
While there are many approaches to growth, long-term business success eventually boils down to innovation and marketing. Evaluating marketing efforts often uncovers missed opportunities or misaligned initiatives. Strategic marketing can prevail even when economic uncertainty and increased competition persist. The idea of evaluating and upgrading your marketing may seem overwhelming. But, once you have a starting point, everything else will begin to fall into line.
For instance, implementing a methodology like inbound marketing is an investment, but it will increase your brand awareness, boost website traffic, and convert more visitors into leads. Strategic inbound marketing doesn't mean replacing proven favorites like industry trade shows, but it can certainly enhance them in a normal year or help you pivot to digital experiences in case of cancelations like we are experiencing in 2020. Inbound marketing can complement traditional marketing efforts making them more effective.
Just imagine — the right marketing strategy can transform your business. It just takes a little education and some planning. This post will help with both.
---
INBOUND Marketing for Manufacturers
The ultimate guide to predictable growth with inbound marketing
---
What is inbound marketing?
Let's start by differentiating traditional marketing from inbound marketing.
Traditional marketing, or outbound marketing, typically creates and places advertising under one of four categories: print, broadcast, direct mail, and telephone. It includes newspaper and magazine ads, TV and radio commercials, digital and conventional billboards, and cold calling.
So, what is inbound marketing?
Inbound marketing is a less intrusive method of reaching today's buyers. It focuses on creating educational content online that compels people to visit your website where they can learn how your product solves their problems and addresses their pain points. By understanding buyers and analyzing what content nurtures them through the sales funnel, inbound marketing provides valuable and customized information for each potential customer. It's ready for the customer when they're ready for it. Instead of casting a wide net as traditional marketing does, it casts one that's more focused to meet your ideal buyer where they are online as they educate themselves about your industry, potential solutions, or your specific products and services that solve for their unique needs. Because inbound is a more customer-centric approach, it is often a more effective way to reach, attract, and nurture your target audience.

Inbound marketing not only draws in visitors, but it engages with them through every stage of the buyer's journey, and it continues to delight them even after they become customers.
To be clear, traditional marketing efforts can still be effective if adapted to modern buyer behavior. Some are time-tested and work well for the manufacturing industry. The trick is knowing how to pair traditional marketing with inbound marketing for maximum impact.

Think of marketing as a machine or assembly line: to keep it running smoothly, every piece must be working together and in sync. It's the same with marketing: all efforts need to connect seamlessly to effectively reach the right audience.
As mentioned earlier, we're not suggesting that you ditch your go-to trade show or stop advertising in niche magazines — they just need corresponding inbound components so that
customers & buyers

see the right message across platforms and are seamlessly nurtured through the sales funnel.

Inbound marketing empowers manufacturers to attract customers with valuable online content and tailored experiences. With the right inbound tools, your company can improve lead generation, create personalized content for prospective customers or distributors, and track ROI.
Do manufacturers need to invest in better marketing and customer service to grow?
According to McKinsey, every dollar of manufacturing output requires 19¢ of services. In other words, your total marketing, R&D engineers, and office-support staff budget for services should be nearly 20% of your budget to edge out the competition. At TANK New Media, we typically find that most small to mid-sized manufacturing companies who implement inbound consistently over multiple years regularly achieve significant growth year over year while increasing profits due to efficiencies related to automation of inbound, sales, and service.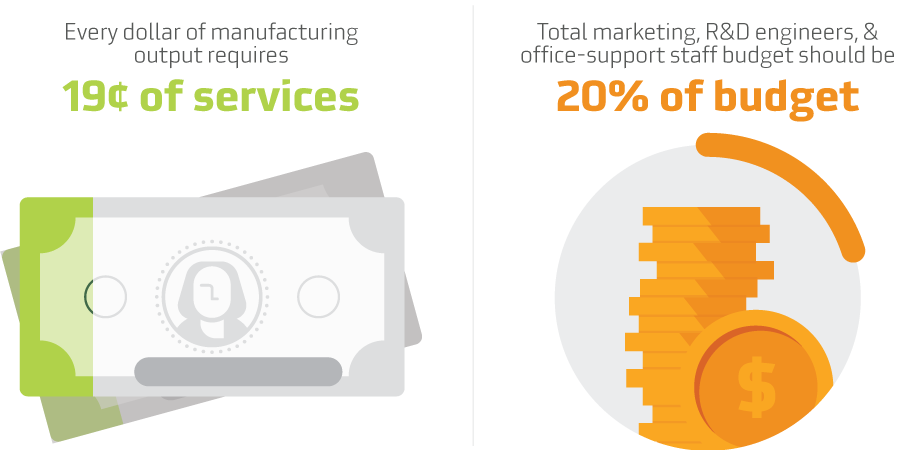 Basically, if you're going to sell more products and grow your manufacturing business, then marketing and innovation around the customer experience are essential ingredients for success. As the pace of innovation and disruption accelerates going into the 4th industrial revolution, it is no surprise that trends in B2C buyer behavior are transforming the B2B market as well. Not only will ongoing investments in marketing and technology keep your manufacturing company competitive, but if you choose the right marketing partner and technology stack, that investment will give you an unfair advantage that can create a large moat around your brand while generating predictable revenue growth.
Does inbound marketing really work for manufacturing companies?
Short answer. Yes. Here are eight reasons why manufacturers need inbound marketing, specifically, to grow better.
It aligns with how customers research and buy today.
It helps your target audience find you when they search online.
It increases brand awareness, so people know who you are.
It educates, assists, and influences the choices of your target audience.
It establishes your company as an industry leader.
It creates interest, engagement, and shares on social media.
It generates qualified leads who are likely to become customers.
It tracks everything so that you can calculate ROI.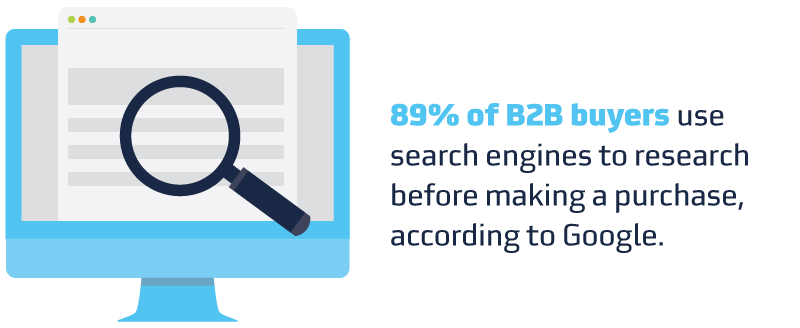 Inbound marketing positions your manufacturing company as a trusted source of information. All the components of inbound marketing work together to make sure your business shows up in search results when someone uses Google to find a solution to their problem. It also ensures that you have a presence when potential customers are searching for opinions and references online. It gets you in their inbox when they click on a follow-up email you sent to them, bringing your solution to their problem back to the forefront of their mind.
Remember, within the manufacturing industry, there will be a mix of marketing methodologies and tactics. However, the pieces that tend to glean the highest ROI long-term will likely be attributed in large part to your inbound marketing efforts.
What are the key components of inbound marketing?
Inbound marketing is robust and has many pieces, but they all work together to create one harmonious effort to attract visitors, convert visitors into leads, nurture leads into customers, and inspire customers to be brand advocates. Key components of inbound marketing include developing target personas, establishing SMART goals, building better brand experiences, creating a strategy, and analyzing the data to make continuous improvements.
1. Develop Target Personas
According to HubSpot, a buyer persona is a semi-fictional representation of your ideal customer based on market research and real data about your existing customers. These personas also describe what the target customers' days are like, the steps they take to make decisions, and the challenges they face in that decision-making process.
A buyer persona helps businesses understand and relate to customers, so they can ultimately do a better job of serving them. Not all target customers fit under one buyer persona, so it's common to have multiple buyer personas.
No matter what your company manufactures, buyer personas are the groundwork for all effective marketing strategies, and they should be utilized throughout every part of the inbound marketing process. Building trust is crucial for customers who are researching or committing to a product or service. Knowing your personas — their pain points, challenges, behaviors, and patterns — allows you to communicate with them in a way that's authentic and on-point while offering them relevant solutions to their problems.

If you can't engage with your customers appropriately and contextually, there is a good chance that you won't gain their trust or interest, which makes for a rough and often unpleasant first impression.
Well-researched and well-defined buyer personas allow you to focus on the obstacles your prospects face and tailor the buyer's journey to their concerns and challenges. Buyer personas inform your business of what you should be doing to help potential customers. Think of them as a compass directing your business to the ultimate destination.

If you're ready to develop buyer personas for your business, we're here to help! Download your free digital buyer persona workbook so you can start creating your personas today.
2. Establish SMART Goals & KPIs
When it comes to digital marketing, there's no sure-fire, one-size-fits-all plan that will skyrocket sales. However, there are some common denominators among successful brands who experience sales growth year over year. Some of those shared elements include Objectives and Key Results (OKRs), Key Performance Indicators (KPIs), and SMART goals.
An effective marketing strategy STARTS with goal setting. Consider establishing SMART marketing goals for not only your overarching marketing plan but also for individual marketing campaigns. SMART goals are specific, measurable, attainable, results-oriented, and time-bound.
If you don't have SMART goals already or you're not sure where to start, download our guide to begin working through the process of creating your own.
3. Build a Better Brand Experience
According to the American Marketing Association, branding is a name, term, design, symbol, or any other feature that identifies goods or services as distinct from other companies.
Branding, while cerebral, is also emotional and conceptual. It's not just the physical features that create a brand but also the feelings that customers develop towards the company or its product. It's the ideas and images that come to mind when thinking about specific products and services. This combination of physical and emotional cues is triggered when exposed to the name, the logo, the visual identity, or even the message communicated.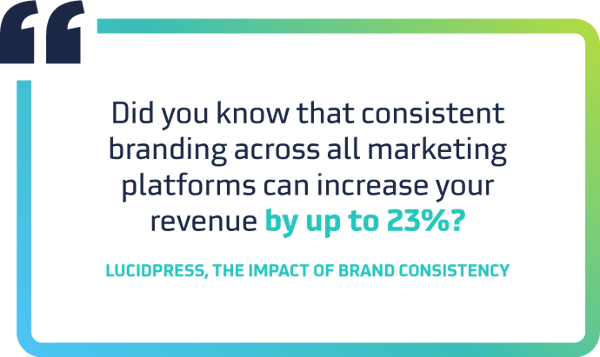 Branding is important for all companies, including manufacturers. In fact, consistent branding across all platforms increases revenue by up to 23%. Branding gives your audience a clear sense of your purpose and a roadmap to intentional and relevant experiences.

4. Inbound Marketing Strategy
Because inbound marketing is persona-driven, it should seamlessly nurture target audiences through the buyer's journey. Inbound marketing encompasses many marketing pieces, including website design, digital marketing, content marketing, lead nurturing, and sales enablement. The goal of your strategy is to find the right mix that will help you meet your SMART goals.
Website design
Digital marketing
Includes: SEO, online ads, video, social media, and chatbots

Content marketing

Lead nurturing
Includes: email drip campaigns, lead scoring, retargeting, social media outreach
Sales enablement
Includes: sales and marketing alignment, sales on-boarding processes, sales resources, print collateral, CRM software, reporting
Remember, while your strategy may be driven by inbound marketing, it should also have some traditional marketing elements incorporated into it. If print ads and trade shows work well for your business, be sure to include them. Incorporating them into your marketing strategy can enhance your inbound marketing efforts.
While marketing strategies can feel like a bear to create, they are essential. As you formulate your plan, remember to include offers that engage customers at the top and bottom of the sales funnel. Check out this bottom of the funnel marketing strategy example that any manufacturer can implement.
5. Analyze the Data & Improve
Don't let your website gather dust until its next redesign. Instead, continually monitor performance and react to the data. That means making frequent improvements so that you have a website that's always performing at its best.
Analyze individual pages and blog posts to see how visitors are engaging with your site and which pages lead to new conversions and customers. Find insights on content performance, search engine optimization, and page performance when smart content rules are applied to your content. You can use Google Analytics or the data your website platform offers.
---
INBOUND Marketing for Manufacturers
The ultimate guide to predictable growth with inbound marketing
---
Does inbound marketing produce results immediately?
Great inbound marketing garners ROI over time, not overnight. Most manufacturers understand this notion. Perhaps it's because that's how most long-term investments work.
For instance, when a significant investment is made into machinery, it's understood that it could take a couple of years before profit is seen — but the risk has been assessed, and the growth potential is real. In time, that machinery will make the company money. In this scenario, equipment is seen as an investment necessary for productivity and growth, not as an inconvenient expense.
In the same way, inbound marketing is a wise investment necessary for growth. Over time inbound marketing initiatives build upon themselves and automation becomes more sophisticated. Publishing relevant and valuable content regularly signals to search engines that you know what you're talking about and that you have answers to questions that people are asking. In time, website traffic grows, visitors convert into leads, and leads turn into customers, and customers become advocates.
How do you create a marketing budget?
What should come first: the marketing budget or the marketing plan? In other words, should you figure out your plan first then allocate money to the various pieces? Or do you first figure out an overall budget then try to maximize it to reach your SMART goals? Honestly, you can start either way, but a combination of both approaches is ideal.
Regardless of your approach, it's important to make sure you have a marketing budget set up (ideally at the start of your fiscal year) so that you can refer back to it when calculating ROI.
A simple but effective calculation can be taking your overall sales growth from a business or product line, subtracting your marketing costs, and then dividing that by your marketing costs — that's going to be your ROI. Looking at your ROI side by side with your budget and goals will help determine growth and success.
Some pieces within your marketing budget may be harder to report on than others. For instance, if you're doing an awareness campaign, it's going to be more challenging to pinpoint overall ROI. For simplicity's sake, it's best to look at total investment dollars to sales dollars. But there are lots of different ways you can do it. As far as measurable elements like closed sales, website traffic, and qualified leads, ROI calculations tend to be more straightforward.
There's more to consider. Read Setting a Marketing Budget to Meet Your Growth Goals to learn more.
How do you find the right inbound marketing agency for your manufacturing company?
If you can't handle marketing in-house, you're not alone. In most cases, dealing with 100% of your marketing in-house probably isn't a great idea. Remember that innovation thing? Stacking the deck with experts in marketing and technology combined with your focused in-house product and service expertise is a winning combination for most small to mid-sized manufacturing companies. This winning combo is efficient, lean, and more likely to take advantage of what works best with less trial and error.
It's worth taking the time to research and interview marketing agencies to find the right fit. As you do, determine whether you are looking for a strategic relationship or a vendor relationship. Both of these relationships are important at their designated times. A strategic relationship is one where both sides have invested in the success of each other working toward common goals. This type of relationship is built on trust and shared values. A vendor relationship, on the other hand, focuses on a defined scope of work without deviations. A vendor will do the quality work quickly with the aim of completing the transaction profitably, while a strategic relationship will provide long-term value and toward overall marketing goals.
Here are some things to consider asking when hiring a marketing agency.
Who is your ideal client, and why?
Have you done work for manufacturing companies before?
Have you had success with manufacturing clients?
What are the core capabilities of your agency? What expertise do you bring to the table?
How would you describe your company culture?
How long have you been in business?
What is the size and scope of a typical marketing engagement?
What is your primary communication style? How would we interact with your agency?
What is your process to address issues?
How do you measure results?
Can you meet my marketing needs?
It can be challenging to craft an industrial-strength marketing presence and branding that's engaging, consistent, and effective, but asking for recommendations from others in manufacturing, doing some homework, and interviewing with your top choices should help.
We hope to be on your potential marketing agency shortlist! Our sweet spot is helping manufacturing leaders grow better by combining our marketing expertise with your niche industry and product-specific expertise. If you're interested in no-obligation conversation, we're ready when you are!