We are
TANK New Media
an Uncommon Digital Agency
About Us? We're About You.
We asked our clients what they like best about working with us. They said we spend time getting to know them. We "get" them. We're there for them. They used words like trustworthy, genuine, and patient. They said we're confident, yet caring.
Our clients love that we create innovative ideas, offer a new perspective, and deliver results.
"Working with TANK New Media is like working with co-workers you want to work with." –Jason, Lansing Trade Group
That's what makes us excited to come to work every morning. We love what we do because we're good at it – and because we care about the people we work with. We want you to succeed. Our name carries our purpose: TANK works with you to drive business forward.
We help generate the marketing and sales traction you need to succeed in a digital world.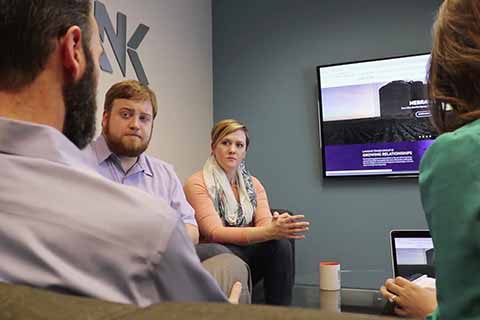 The TANK Way
Professional, but not stuffy. Friendly, but not too laid back. Creative, but purposeful and strategic. On a scale between suit-n-tie and flip-flops, we stay sharp, yet comfortably ourselves. We believe our intentions inform our actions. In four words, we are:
DRIVEN
We're roll-up-the-sleeve kind of people that work hard but smart.
INNOVATIVE
We're forward-thinkers, always keeping one eye on the horizon.
STRAIGHTFORWARD
We say what we mean and mean what we say – honest & upfront.
APPROACHABLE
We're real people who value conversation.
Our Story
TANK New Media was founded in 2009 when Thad and Krista Ankenman set out to create a different kind of digital marketing agency. Valuing integration and mutual success, they envisioned a less-siloed approach, making room for everyone to bring their strengths to the table. This commitment to authentic partnership has proven to be a powerful catalyst for producing the agile insights and innovative solutions that drive business forward.
Our team includes a diversely talented mix of professional strategists, designers, writers, programmers, and specialists who are passionate, creative, and determined. We may be an uncommon lot – not afraid to think outside the box – but we're united by a common desire. We strive to do excellent work for excellent people and achieve excellent results.
That's the TANK value. All of this energy and expertise is supercharged when combined with your team's knowledge and perspective. All of this, working together – well, it's been working. But we don't rest on past success; we keep raising the bar. And we look for clients who want to do the same.
But enough about us… We want to hear about you.
Tell us about your organization – where you've been, where you are, and (most importantly) where you want to go. Tell us what's working and what's not working. Heck, tell us your favorite color. Let's get the ball rolling.