Email marketing is an essential part of the marketing equation for business growth — and it's a fantastic vehicle for customer delight.
Whether you're replying to customers who have questions or strategizing an email marketing campaign, there's no way around it.
By now, we all know the best practices and basic courtesies associated with one-off emails: don't forget to include a subject in the subject line, make sure you don't hit "reply all" if that's not your intention, add your name or e-signature, use spell check, understand that emojis are OK for internal or informal correspondence but not appropriate for client/professional emails, etc.
However, it's the use of email for marketing and promotion that some businesses struggle to get their minds around. They're not sure when to create an email marketing campaign or how to start it in the first place. How to create a strategy is unclear, or they're unaware of how to utilize a mass email platform.
Can you identify with any of these? They're all legitimate concerns and valid hindrance points.
In this post, we're going to address some of these areas, hopefully putting your worries at ease and getting your creative juices flowing with ideas and insights. Email marketing strategies don't have to be hard or complicated, just effective.
Creating an Email Marketing Strategy
The best place to start is to brainstorm what you want to tell who. For example, your brainstorming list might include:
Promote holiday sale to current and prospective customers
Advertise an upcoming online event to current and prospective customers
Educate potential customers about the benefits of a particular line of product
Order confirmations for customers who've placed an order
Inform prospective customers of upcoming trade show
This list isn't comprehensive or brilliant, but you get the picture. It's a way of getting down all ideas but also connecting them to a target audience.
Have brainstorming sessions like this monthly or quarterly with the marketing and sales teams. Remember this is a brainstorming session — the more ideas, the better, but realize that NOT all of them should be implemented. If you have limited time and resources like many businesses, you'll need to pick and choose which will be done within the upcoming time frame and which will we tabled for later (go ahead and roll those ideas over to the next session's list of ideas).
Once you have your targeted list, start plugging each item into an email calendar. It could be a tab of your content calendar or a stand-alone spreadsheet. The sheet could be as simple as this.

Including the Link column gives you a place to put a preview URL or website version URL. It's helpful to have those at your fingertips when it comes to reviewing past months and quarters.
As you map out sending dates, remember NOT to bombard or oversaturate people's inboxes! Seeing at a glance what is going out to whom on which days is beneficial.
Keeping this document up-to-date will keep your strategy on course and the marketing team members — including the person tasked with assembling the email — on target.
Components of a Marketing Email
Once you have a marketing strategy in mind, think about ways to entice your recipients to open the email, what the email looks like visually, and how to communicate the message you want.
The components of an email that initially impact whether people will open your email or not are the subject line, sender name, and preview text.
Make sure the subject line is true (not spammy or disingenuine), catchy, and relevant. An analysis of over 40 million MailChimp marketing emails revealed that descriptive and straightforward subject lines had the highest open rates. This survey also found that sales-y email marketing subject lines achieved the lowest open rates.
It's critical to choose an effective and consistent "From" name and email address. Choose a name or title that will be recognizable to your current and potential customers. There are a few ways of doing this. You will need to determine which is best for your brand and your customers.
For instance, you could potentially use any of these formats.
From: Gary
Email: gary@pizzahotspot.com
From: Gary, Pizza Hot Spot
Email: gary@pizzahotspot.com
From: Pizza Hot Spot
Email: hello@pizzahotspot.com
Whichever you choose, be consistent to build brand familiarity and customer trust.
Now for the preview text. This part is so important that most email marketing platforms require it if they don't automatically generate it — that's how crucial it is.
Email preview text is the copy that is visible in most email inboxes after the sender and subject lines. While some email platforms will extract it right from the email message, it's better when you can write it for yourself. It's better because it's another opportunity to compel the recipient to open your email or it can provide a 100 character summary of the point of your email. So, the bottom line? Use it to your advantage.
Let's talk about the body of the email for a moment. It's one email going out to many people. So no matter the purpose of your email, generally speaking, it should provide value, be easy to read, and have one clear action point or call-to-action (CTA). Here are some quick & dirty things to remember.
Use short paragraphs. They're more consumable and more likely to be read (or scanned!) than unnecessarily long paragraphs.
Check your spelling. AfterAll no-one likes Bad grammer or misspellled wordz.
Utilize bullet points when you can. This also makes reading and scanning easier and more likely.
Use at least one relevant and compelling image.
Include an appropriate and actionable call-to-action (CTA).
Put at least one clickable element above the fold — that could be an image, link, or CTA.
Avoid using excessive exclamation points.
If you're not familiar with coding, don't force changes to an email template in the source code — it could lead to wonky formatting. Instead, trust the templates that your email platform provides.
As a bonus, include social sharing links somewhere on the email so readers can easily share the content they found interesting to their social channels.
Here's a quick note about images. While it's GREAT to use images strategically in your email, some of your customer's email platforms will block the images  by default, including designed CTAs and graphics. That means a chunk of your audience may not see your intentionally chosen images. So, be sure to add alt text and links to all of your ALL images.
It's also worth noting video here. While video is HUGELY popular, they should NOT be embedded or attached to marketing emails. By default, most of your customer's email platforms don't allow the ability to view rich media like Flash or video embeds. Instead of placing a video in your email (it could be being flagged as spam or marked as undeliverable, use an image from your video, overlay it with a play button, and link it to your media source or the website page that has the video on it.
Email Marketing Examples
Now knowing what you do, and instead of just telling you about great emails, we'd like to show you a few.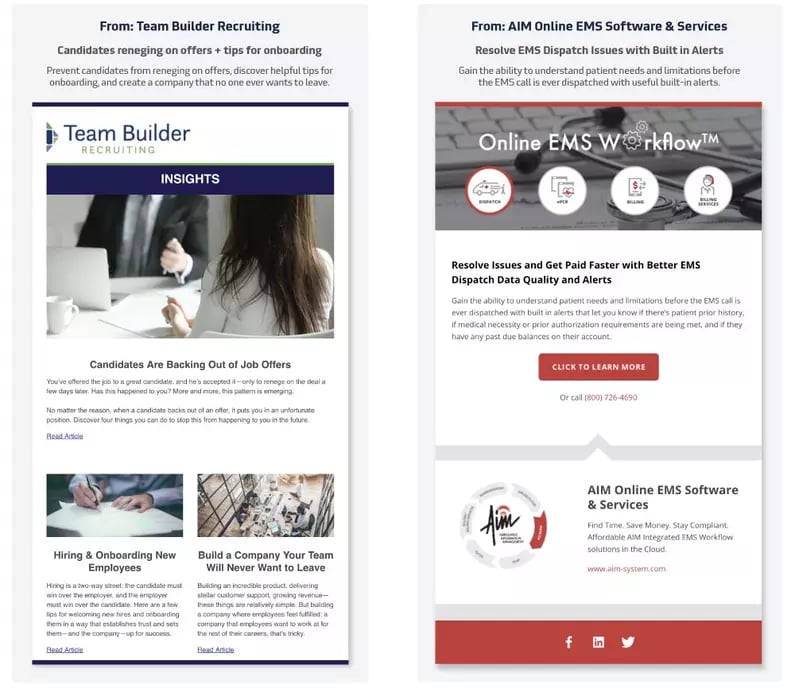 Email Marketing Platforms
This is the age of digital marketing, which means there are many email marketing platforms to consider — from free to costly corporate subscriptions.
Here's a short list of handpicked email marketing services on the market today that have made a powerful impact.
HubSpot
Constant Contact
Campaign Monitor
iContact
MailChimp
AWeber
SendinBlue
ActiveCampaign
AutoPilot
GetResponse
Ontraport
For a snapshot of each of these services read this post. It provides a helpful and succinct overview of each platform.
Now, what you can expect from each platform is that they are in line with industry standards. That means that you don't need to be concerned about things like Sender Policy Framework (SPF), DomainKeys Identified Mail (DKIM), Domain-Based Message Authentication, Reporting, Conformance (DMARC), and CAN-SPAM compliance. What are those anyway, right? Sure, Google them and educate yourself, but no need to become an expert. These email platforms have your back.
These platforms even have ways for you to see what emails look like on other devices like laptops, phones, and tablets. Since mobile is responsible for at least 50% of all opens and many mobile users delete emails that aren't mobile-optimized, it's important to make sure your emails are responsive — so double-check them before you hit send.
One thing to note — emails cannot be sent to bought or transferred lists that include your marketing emails. It's illegal. Most, if not all of these platforms, have a failsafe in place to prevent this from happening, but be mindful of this email marketing law.
We recommend HubSpot for Email Marketing
While the email marketing services list is in random order, we do have a recommendation. We love HubSpot.
While we have in-house developers, it's nice to know that with HubSpot's drag-and-drop feature, a coding pro is not required to set up and send a marketing email. Anyone can figure out how to use HubSpot's extensive library of reusable, branded email templates. There's no need for designers or an IT person to create a professional email design.
You can tailor your emails to each subscriber to generate a higher open rate with name personalization. HubSpot can tap into your subscriber's lifecycle stage, list membership, and other information stored in the Free HubSpot CRM to serve up the most relevant subject lines, links, and CTAs.
The best part? You can schedule your email campaign then sit back and relax knowing your emails will show up in each inbox at the most optimal time, regardless of time zones. Voilà!
With HubSpot, you can lead your leads (see what we did there?) through their own path to close more deals with email marketing automation. Automate your email campaigns so you can move prospects further down the funnel and generate more qualified leads. You can choose from dozens of triggers, conditions, and actions to send the right emails to the right leads at the right time.
To learn more about HubSpot's email marketing capabilities and their other awesome marketing tools, read Why Use HubSpot: The Benefits and Features of HubSpot's Marketing and Sales Software.
If you want help with email marketing strategy and execution, we can help you with that. We are a full-service marketing agency ready to assist you in any way possible — from brand development and website design to content strategy that includes email marketing, blogging, and compelling content offers.