Is it hard to keep your website up-to-date? Need help with website redesign? Unsure how to connect and engage your desired audience? TANK New Media's website design services will seamlessly guide you through your challenges. Throughout this blog, you will explore key topics like website optimization, how you can have a desired partner that is here to help you navigate the updates needed to connect to your audience, and achieving a current and effective website design for business growth in the ever-changing digital landscape.
Redesigning your website is an important decision that should be based on several factors. Here are some key signs indicating that you should consider redesigning your website.
When Should I Redesign My Website?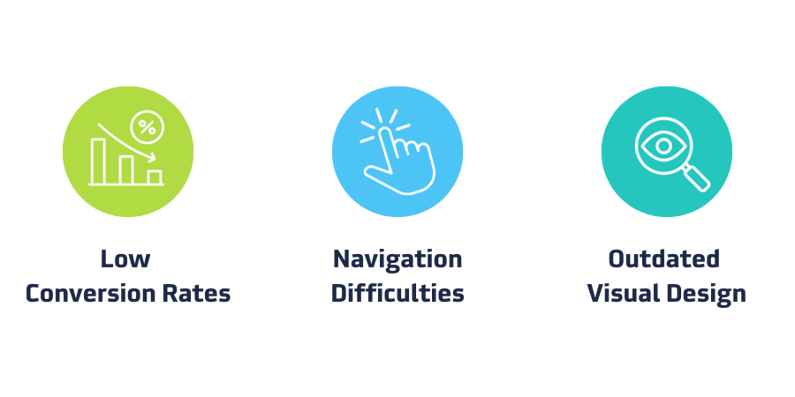 Low Conversion Rates
If your website is not effectively converting visitors into leads or customers, it's a clear sign that something needs to change. It's time to reassess its design and content to make it more appealing and persuasive.
Navigation Difficulties
A website that is hard to navigate can frustrate visitors and lead to high bounce rates. If users struggle to find the information they need, such as product listings or contact information, your website's navigation structure needs improvement.
Outdated Visual Design
An outdated or unattractive website design can give the impression that your business is not keeping up with the times or lacks attention to detail. Modern and visually appealing websites instill trust and credibility in visitors.
How to Select an Agency for Your Website Design Needs
Hiring a digital agency with website design services is like adding a new team member to your business. The decision can significantly impact your online presence and business success. Before you commit to a partnership, take the time to establish clear criteria, expectations and have an understanding of the agency's strategies and approaches for your business. Here are some critical steps to guide you through the process:
1. Define Your Needs and Goals
Before you begin your search, outline your specific needs and goals for your website redesign. Consider what you want to achieve, such as wanting to make it easier for the site to be navigated, increased traffic, or higher rates of people converting to your products. This will help you find an agency that aligns with your objectives.
2. Assess Experience and Capabilities
One of the most critical factors in choosing a web design agency is their experience and capabilities. Look for agencies with a proven track record of successful website redesign projects. Ask about their expertise in your industry and experience with similar businesses.
3. Be Clear on Your Expectations
Consider how much attention and support you'll need. Some businesses prefer agencies that provide constant communication and guidance, while others may want a more hands-off approach. Be clear about your expectations, and find an agency that can meet them.
4. Evaluate Compatibility
Successful collaboration depends on compatibility. Assess how well you and the agency can work together. Are their communication styles and work processes compatible with yours? Do you feel comfortable discussing ideas and concerns with them? Building a good working relationship is crucial for a successful project.
5. What They Can Do For You
The agency you choose should align with your business goals. You want someone who is going to help you every step of the way. An agency should also help you execute strategies and different tactics as well as help measure the performance of those strategies.
6. Check Testimonials and Case Studies
Testimonials and case studies are valuable resources for gaining insight into an agency's reputation and capabilities. Read reviews and testimonials from their previous clients to get an idea of their client satisfaction levels — review case studies to see examples of their work and the results they've achieved for other businesses.
7. Consider Cost, but Compare Value
While cost is a factor to consider, it should not be the sole determining factor. Instead of opting for the cheapest option, focus on the value provided. Assess what is included in the pricing, such as ongoing support, maintenance, and scalability. A slightly higher investment may be worthwhile if it leads to a more successful website and long-term benefits for your business.
Common Reasons You May Need a Website Redesign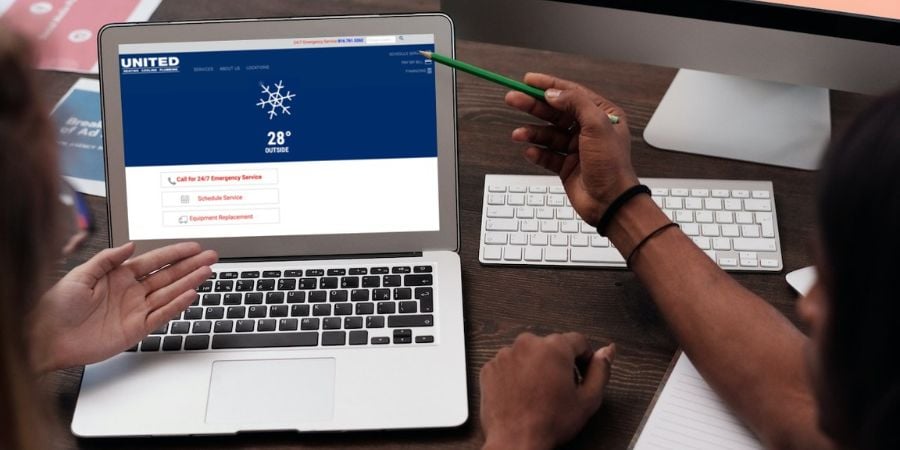 Businesses often find themselves facing a myriad of issues with their websites that necessitate a comprehensive redesign. Clients turn to us for solutions to a range of problems, including:
Outdated Website —

These websites may have been cutting-edge a few years ago, but the pages have become outdated, failing to engage and convert users effectively. The need for a fresh, modern look and improved functionality is key.
Legacy Tech Stack is Hard to Maintain — Many clients approach us with websites built on legacy systems that are challenging and costly. Outdated technologies hinder updates and improvements and pose security risks. Migrating to a more manageable platform is often the answer.

No Longer Represents Your Brand —

Businesses evolve, and so should their online presence. A redesign is in order when a website no longer aligns with a business's current brand identity or messaging. Clients look to their online image and need/want it to go with their brand's values and vision.
Adding New Products/Product Lines — As businesses expand and diversify, they often add new products, services, or features that their current website can't accommodate. This limitation can impede user experience and frustrate customers. Redesigning the website to accommodate these additions becomes imperative.

Not Bringing in Leads and Revenue —

A website that isn't generating leads or revenue is a significant concern. Clients come to us when their website isn't delivering the expected results. Whether it's due to poor user engagement, confusing navigation, or ineffective calls to action; these issues prompt a reevaluation of their online strategy.
Not Sure What to Do to Make Things Better — Sometimes, clients come to us knowing something is wrong with their website but lack a clear understanding of what changes are needed. They seek guidance and expertise to identify the root causes of their website's underperformance and devise a comprehensive strategy for improvement.
Committed to Success: Helping You Every Step of the Way
Why do we create websites? We use proven systems to clarify your message, build a clear and compelling website, and position your business for growth in your niche.
Websites That Work for You and Your Business
At the heart of our mission is crafting websites that work seamlessly for you and your business. Your website is a powerful tool for revenue generation, lead generation, and ensuring that your online presence aligns with your brand messaging and business objectives.
We don't just build websites; we engineer digital experiences tailored to drive results. Whether it's increasing sales, capturing leads, or building brand recognition, we focus on empowering your business through exceptional web design and functionality.
Learning About Your Business Inside and Out
The foundation of a successful website is rooted in a deep understanding of your business. So, we invest the time and effort to learn about your unique challenges, aspirations, and goals. Our process involves immersing ourselves in your business's DNA, and aligning our efforts with your vision.
Transforming Your Website into a Sales Resource
Your website is more than just a digital storefront; it's a powerful sales resource. We help you unlock the full potential of your online presence. A well-crafted website is the cornerstone of your online marketing efforts, allowing you to effectively showcase your products or services.
Offering Recommendations for Growth
Our commitment to your success extends beyond website development. We believe in an ongoing partnership, providing you with recommendations and insights that can help your business flourish. We analyze your website's performance and identify areas for improvement.
We don't just hand over a finished product; we offer strategic guidance and suggestions on optimizing your digital presence. Whether it's refining user experience, implementing the latest industry trends, or exploring new avenues for growth, we're here to ensure your website evolves alongside your business.
Our "why" is driven by your success. We are passionate about creating websites that meet your immediate needs and pave the way for long-term growth. Your success is our motivation, and that's why we do what we do.
You Deserve a Website That Works
We firmly believe that you deserve a website that works seamlessly to support your business goals. Your website should not just be a digital presence but a powerful tool that enables growth, engages your audience, and converts visitors into loyal customers. To make this a reality, we've developed a comprehensive process that ensures we understand your unique needs, challenges, and opportunities. Here's how we get started on creating a website that truly works for you:
1. Tell Us About Your Goals
The first step in our journey together is for you to share your goals and objectives. We want to clearly understand where your business stands today and identify any website gaps limiting your growth. By understanding your short-term and long-term goals, we can tailor our approach to align perfectly with your vision.
2. Get to Know You and Your Business
Building a website that works for you starts with building a relationship. We take the time to get to know you and your business. We understand that your business is unique, and what works for one may not work for another. We delve into your business's core values, mission, and what makes it tick.
3. Share What Works Well
No detail is too small when it comes to understanding what works well for your business. We encourage you to share the details, no matter how minor it may seem. They often hold the key to making impactful decisions that resonate with your audience.
4. Identify What Isn't Working
Equally important is knowing what isn't working or no longer works as effectively as it used to. We want to hear about the challenges you've faced, the missed opportunities, and the areas where you know you can do better. Your insights into these aspects are invaluable in guiding our website development process.
By taking this comprehensive approach, we ensure that your website becomes a dynamic asset for your business that adapts and evolves to meet your changing needs and aspirations.
Exploring Case Studies from TANK New Media
Let's explore some inspiring success stories from clients who partnered with us for website design services to achieve remarkable results in their website design.
Breathing New Life Into a B2B Technology Website

An Energy Software Business with 15 years of experience in the B2B technology sector approached Tus because they faced a significant challenge. We stepped in to create a comprehensive brand identity that aligned with its goals and then used these guidelines to revamp its website.
The main hurdle was reorganizing the website to accommodate new product additions. We started by understanding the products and target audience, creating detailed buyer personas, and identifying the problems that motivated buyers to seek their solutions. This insight was pivotal in restructuring the website for better navigation and improved layout.
Leveraging the HubSpot CMS Hub, we ensured seamless integration of marketing tools and comprehensive analytics. The result was that a website aligned with the company's brand and facilitated better communication with its audience, ultimately accelerating its growth.
Website Redesign Realigns a Midwest Distiller With Its Audience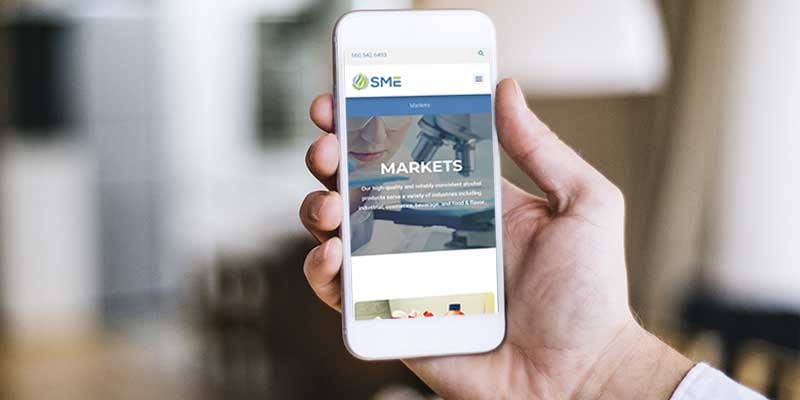 An Alcohol Manufacturer producing over 70 million gallons of alcohol annually, rebranded due to the release of new products. They turned to us to redefine their target audience, tone, and messaging. The company wanted to attract manufacturing businesses and corporate clients who sought high-quality, timely products.
Its existing website was outdated and challenging to navigate. TANK's strategy was to design a professional and corporate website that showcased its production process, highlighted its values, and offered user-friendly navigation. We created product detail pages with downloadable spec sheets, ensuring customers had all the information they needed to make informed decisions.
We revamped the business's visual presentation, style, and structure, realigning the brand with its mission and target audience. The result was a clean and customer-focused website that provided a strong foundation for a growth-minded marketing strategy.
Website Redesign Supported Growth for Midwest Shed Manufacturer
A Midwest Shed Manufacturer partnered with TANK New Media to boost marketing and sales growth. After refreshing its branding and logo in 2019, TANK updated its website to seamlessly align with the new brand elements. Leveraging the HubSpot Marketing Hub and Content Management System, TANK made branding updates across platforms effortless.
TANK focused on improving user experience, upgrading product detail pages, product listing pages, and site navigation. These enhancements led to a 5% increase in the average transaction. Recognizing the importance of in-person viewing for the company's customers, TANK created an interactive overview map of display lot locations, ensuring easy access to location information. We also optimized the mobile experience for on-the-go users.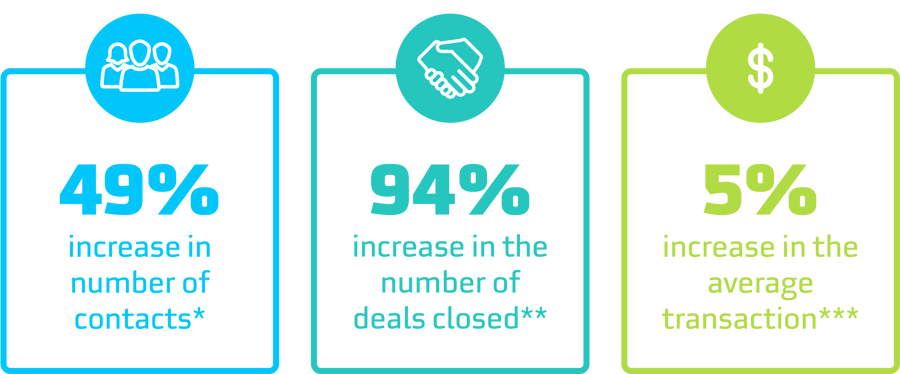 With these updates, the brand excelled in designing and manufacturing high-quality buildings and established a solid marketing foundation and a stronger online presence. TANK's systematic approach ensures that its website continuously evolves to align with customer interactions and changing business needs.
As Dakota added new products and expanded previous lines, they wanted their website organized in a way that showcased all their products within the various collections and series categories.
The Next Steps to Transform Chaos to Structure
It's time to discuss the crucial next steps to bring order to the chaos.
Don't Spin Your Wheels, Seek Help
The first piece of advice we want to emphasize is seeking help when needed. It's all too easy to get caught in the whirlwind of managing your website, juggling digital marketing strategies, and simultaneously trying to meet your business goals. This can quickly lead to chaos, where tasks pile up, priorities become unclear, and efficiency dwindles. That's where we come in — don't hesitate to reach out and take action to redesign your website with our experienced team.
A Smooth and Successful Partnership With TANK New Media
Redesigning your website is a crucial step in establishing a solid online presence and ensuring the growth of your organization. As we've explored in this blog post, a smooth and successful website design project is attainable, and the sooner you invest in a website that truly represents your brand and engages your audience, the sooner you'll start reaping the benefits. At TANK New Media, we understand growth-minded organizations' unique challenges and opportunities.
Our holistic approach to branding, smarter websites, integrated marketing, service, and sales enablement is designed to help you achieve the marketing and sales traction that drives results. Kickstart your website design project. Get started with us, and let us help you transform your website into one that works.