Has business growth stalled? Your website could be a big part of the problem.
A decade ago, any business with a website was on the cutting edge. Today, it's a much different reality. Every company is expected to have a well-designed, easy-to-navigate, and engaging website. If your business growth has stalled, it could be because your website isn't delivering what customers want.
Stanford University found that 75% of people judge a company's credibility based on its website design. This stat backs up one of the most obvious clues that you need a website redesign. People can see and understand when a company website design doesn't align with your branding. But, there are additional signs to indicate your company is ready to undergo a website redesign. We'll cover some of those top key indicators in this article.
Your Page Load Speeds Are Too Slow
According to Neil Patel, 47% of consumers expect a web page to load in under two seconds. What's more, 40% of people abandon a website if it takes more than 3 seconds to load. This is one of the biggest issues we run into with older and outdated sites. Your website visitors aren't going to hang around for pages to load; they're going to lose interest, jump back to their Google results, and most likely end up on your competitors' sites.
But, here's the secret — it's not just website visitors who are looking for speedy website pages. Google is, too. Sites with slow page speeds can drastically impact your ranking in Google search results. Google started using site speed as a ranking signal in their algorithm back in 2010. And recently, in July 2021, Google announced that its new update judges web pages based on experience. Page experience comprises several factors, including mobile friendliness, HTTPS security, and page speed.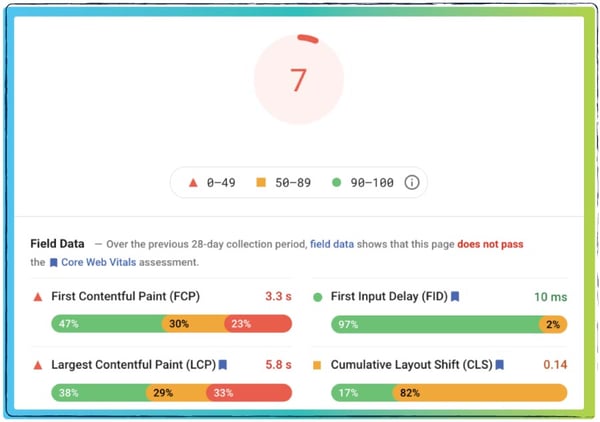 When looking at website performance today, Google's Core Web Vitals are looking for Largest Contentful Paint (LCP) to occur within 2.5 seconds and First Input Delay (FID) to measure less than 100 milliseconds. When analyzing your site, it's important to consider your page load times and page speeds. If they aren't hitting the mark, it may be time for a website redesign.
Your Conversion Rates are Low and Underperforming
Ultimately, one of the primary goals of your website should be to convert website traffic into leads and customers. If your conversion rates are good, that usually means your website is performing effectively and delivering value to visitors, resulting in a higher volume of qualified leads at a lower acquisition cost. But if that's not happening, that's where either conversion rate optimization or a website redesign might come into play.
Sometimes undergoing a website redesign is beneficial when looking to improve your conversions. Sometimes the conversion paths become confusing and difficult to manage and update. During the strategy phase of your website redesign, take time to map out conversion paths. You can then leverage these maps to build pages that push conversions, converting visitors into leads into customers.
Your Website Navigation Has Become Confusing and Convoluted
As B2B and manufacturing businesses grow and expand their product lines over the years, websites are often overlooked and fail to get updated. This becomes confusing and frustrating for visitors.
Crowded website navigation can be a significant reason why your website is underperforming. Honestly, see it a lot: dozens of menu options stuffed into top-level navigation, all competing as the most important item. It's tempting to think you need to provide visitors with as many options as possible so they can find the solutions they're looking for, but it has a reverse effect. It ends up overwhelming your audience and creates a negative user experience.
Gathering website feedback from users can be helpful. To gauge the effectiveness of your website, ask someone who knows nothing about your business to view your website for 30 seconds, then ask them what your company does, what your products help solve, and how they can buy from you. Their answers might be eye-opening. While this isn't scientific, it's a good litmus test for understanding where your website stands with your online visitors.

Your Website No Longer Accurately Reflects Your Brand
As mentioned above, your brand, products, and messaging evolve. But, we often see that a business website gets left behind. This results in a disjointed and misaligned digital marketing strategy. Your site's first impression on visitors can often be the difference between earning a potential customer and another bounce.
You're known as a market leader that offers high-quality products and top-notch service — make sure your website is well-designed and leaves prospects remembering you as such. Your website should be aligned with your messaging strategies, visually represent the quality of your business, and speak to your customer's pain points. If your company claims to be on the leading edge, but your website can't back it up, you end up with a major disconnect. If that's the case for you, then it's time for a website redesign or a launchpad website.
Your Site Isn't Mobile-Friendly or Responsive
While this was a much more critical issue five years ago, we still see a significant gap in mobile responsiveness. Mobile website traffic makes up more than half of website visits around the world. If your site is compatible with mobile devices or delivers a poor user experience on mobile, you're leaving considerable potential on the table for your website.
It's not enough to just have a responsive website anymore. Mobile-first websites load faster, and search engines, like Google, gauge their search results from a mobile standpoint, not desktop. If you're looking to start fresh with a website redesign, you need to consider the mobile-first web design since mobile engagements will only increase over time.

Consider Your Options
If you find yourself wondering if you need a new website, there's probably a good chance you already know the answer. If you recognize any of these indicators and are looking to kick-start digital marketing, it might be time to consider a website redesign or growth-driven design website approach.
Start by testing your site to see where it's working and where it's falling short. With your website grade in hand, you'll be able to understand where your website has opportunities for improvement.
More reading: