Are you struggling to connect with your target audience and think it might be time to update your brand? A brand strategy is essential, but knowing what to do when you don't feel like your brand identity connects with your target audience is equally important. There are some key differences between a rebrand and a refresh, and both are viable options. Brands that aren't evolving risk becoming irrelevant or outdated. Some of today's most popular brands would not attract attention unless they had undergone rebrands or refreshes. Keep reading to learn the distinctions between the two and how to build a brand strategy to improve your business.
What Are the Differences Between a Refresh and a Rebrand?
The long-term success of your brand depends on flexibility. Both a refresh and a rebrand can help your business stay fresh and relevant, but there are some important distinctions between the two. Understanding the differences will help you determine which path is the best option for your business.
Every business should have a brand — a distinct identity that sets your business apart in the minds of your target audience and consumers. At the most basic level, branding includes your name and logo, visual design, mission, and tone of voice.
Brand Refresh

In the fast-paced world of business, it's easy for brands to be sidelined due to other priorities or uncertainties about how to adapt. It's vital to understand that branding isn't a one-time task; proper application in real-time and periodic refreshes offer a chance to distinguish a business from its competitors.
Suppose your current brand works for your business, and you want to remain recognizable to your existing customer base. In that case, a good brand refresh can give your business an updated, fresher feel without needing a complete overhaul. Updating the look and feel of your brand touchpoints (such as your social media pages, marketing materials, storefronts, etc.) can easily help you maintain audience appeal with an improved look, create a clearer and more focused message, or reflect updates in your products or service.
Refreshing your brand can help your business stand out from competitors and more firmly establish yourself in the marketplace. Making your branding more modern, relevant, and unique can capture the attention of potential customers and increase your chances of winning business. It can also signal to your existing customers that you are adaptable, making changes to your business to grow with your client's evolving needs.
Rebrand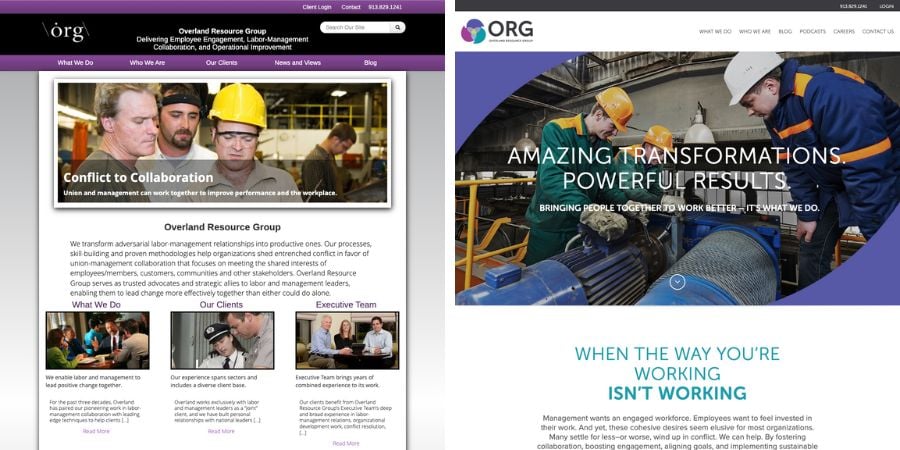 Consider the total renovation of a building: tearing it down, cleaning up the pieces, and then rebuilding from scratch. Unlike a brand refresh, rebranding is a total overhaul of your brand's identity, including the brand story, messaging, visual elements, and even your products.
Rebranding may be your best option if your target market is not well-defined, you're not resonating with your target audience, or it's time to reach a new audience.
In rebranding, there is one simple goal: to keep your brand current. Design trends play a major role in how potential or current customers perceive your business and its offerings. Rebranding is often necessary to maintain brand strength and give your business a better positioning in the marketplace.
Benefits to a Rebrand or a Refresh
A complete rebrand can help breathe new life into a business. However, the process is often time-consuming and requires several layers of approval but provides a possible needed overhaul. A brand refresh, on the other hand, can be done more immediately, though it won't address deep-seated issues with your branding. Each strategy has unique benefits that make it appropriate under certain circumstances.
Benefits of a Complete Rebrand
A rebrand requires a complete transformation of your existing brand. By the time you are done, it may be unrecognizable. If your business has undergone a dramatic shift since you originally created your brand and no longer aligns with the branding you originally created, a rebrand can help you convey those changes more viscerally. A rebrand may include a radically different color palette, logo, typography, and even a new name. A very recent example of a widely publicized rebrand is the transformation of Twitter to X. The "cute" moniker that evoked the image of birds chirping to each other has been replaced by a single letter. Instead of a cheerful blue cartoon bird, the brand now uses a stylized letter X with a sleek, modern black and silver color palette. This rebrand is a visual representation of the massive changes the platform and business are experiencing under the leadership of Elon Musk.
Lasting Impressions and Benefits of a Brand Refresh
Most brands, especially successful and well-established businesses, will have to refresh their brand eventually. As technology and design trends change, older logos and websites will start to look outdated. Customer taste, market conditions, and your product and service offerings are also likely to shift over time. A brand refresh can help your brand stay modern and relevant. A brand refresh may include a new logo or the existing logo redone in a new style, an updated color palette, and a different lettering style for any wordmarks. After decades of brand refreshes, a logo might look drastically different from its first iteration. However, you can usually trace a continual thread in the design's evolution. Most importantly, the name should stay the same.
Take the Pepsi-Cola Company, which celebrated its 125th anniversary in 2023. Today, its logo is an abstract red, blue, and white ball, but when the soda first hit the market, its logo was the brand's name in an elaborate red font. Variations on the red wordmark were used until 1950, when the brand introduced a logo with the familiar wordmark on a red, blue, and white bottle cap. Over subsequent years, the bottle cap became more abstract, the typeface became more modern and streamlined, and the wordmark was shortened from Pepsi-Cola to simply Pepsi. Eventually, the wordmark was dropped altogether, leaving us with the logo we know today.
Which is Going to Be Right For Your Brand?
Your current branding needs an update, but how far should you go? The decision between refreshing a brand or rebranding entirely depends on your business's current needs.
Since your brand is mainly a tool to communicate with your customers, a good place to start is to conduct a market analysis to see how your brand resonates with your audience. Do they feel that the brand is completely out of touch with their wants and needs or that it just needs to be modernized a little bit? Then look inward. What were your business's goals and values when you last updated or created your branding guide? How have they changed since then? If there's been a significant shift, a total rebrand might be the best option to reflect that.
Before you commit to a rebrand or a refresh, you can draft some preliminary ideas with your target audience. If you still need a nudge in the right direction, a consultation with experts, like the team at TANK New Media, can help you evaluate your current brand for areas that need improvement.
Keep Your Brand Identity Relevant
In order to be successful, your brand needs to be adaptable. However, changing your brand just for the sake of change can alienate your audience rather than strengthen their connection to your business. A well-executed rebrand or refresh should respond to changing customer needs and tastes to keep your brand relevant.
Whether you choose a rebrand or a brand refresh will depend on your business's unique needs at that moment. Research into your customers' current attitudes and perceptions of your brand is always a good place to start. If your brand just feels a little stale and outdated, a refresh can easily breathe new life into your business. However, if you find your current branding is deeply flawed and seriously missing the mark with customers, you may want to begin a radical rebranding effort.