6 min read
Build an Effective Brand Strategy + Communication Plan for Success
By: Krista on May 24, 2023 at 11:15 AM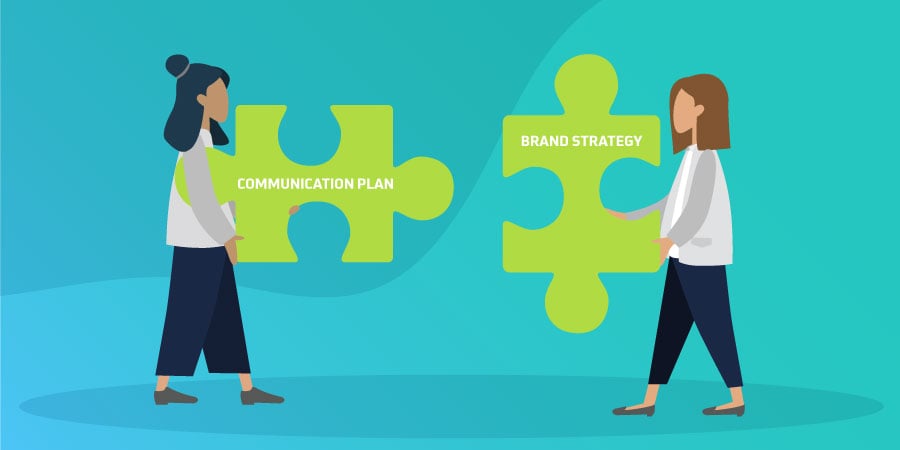 Why Do I Need Both a Brand Strategy and a Communication Plan?
Branding is an essential part of marketing
It's the best tool for reaching your target market, showcasing your value, connecting with them, and establishing your relevance and expertise.
Branding enables you to put your business in front of your target market consistently. Other branding elements, such as your messaging, help your target market understand your value and authenticity.
At the same time, a communication plan is a strategic and intentional map outlining how you will execute your marketing campaign. It functions cohesively with a brand strategy, as it outlines the delivery method for all of the brand components you create.
Discover how your brand strategy and communication plan work together to deliver an outstanding marketing campaign.


Your Brand Positioning Depends On Four Elements
Answering Who You Are and What You Have To Offer
Crafting and implementing an effective brand positioning requires a handful of components; audience, positioning, promise, and story. Together, these elements flow and allow for the creation and execution of seamless marketing. As you get started putting your brand strategy and marketing plan together, you'll want to focus on these four elements:
Your Audience: Who are you selling to? The target audience is the people your business wants to sell to, and it should be clearly defined and documented. You will craft your messaging around their problems, and your brand needs to resonate with them.
Your Positioning: Positioning is how you differentiate your brand from others in the competitive landscape. Having a competitive advantage is essential to stand out from the crowd and increases your chance of being noticed and remembered. Tailor your branding strategy around the consumer's point of view and answer these questions: What's in it for them? Why should they buy my product vs. my competitors'?
Your Promise: Your brand promise is what you will deliver to your customers — every time. Your promise is what customers should expect when engaged with your brand. Generally, it is the experiences delivered through products or services.
Your Story: Just as important as the here and the now, brands that have been around long enough have a history to share. No matter how much the brand has evolved since its inception, everything has contributed to where it stands now. The story also establishes credibility and can tap into feelings of nostalgia.


Strategies and Plans Work Together
Get the Right Message to the Right Customer at the Right Time
You can publish what feels best at any given moment. And that will work sometimes. More often than not, this won't get you where you want to be. You'll miss your goals, and you'll even struggle to analyze and understand what went wrong.
You need a brand strategy paired with an effective communication plan working in tandem for success. These two tools work together to deliver stand-out messaging to a target market. They become a powerhouse for marketing, allowing businesses to get the right message to the right customer at the right time.


What is a Brand Strategy?
A brand strategy is a marketing strategy that dictates how a company will reach its target market to showcase its brand and build interest and, eventually, loyalty. With a well-developed brand strategy, you can help differentiate your company's products or services from your competitors. Multiple parts to a brand strategy that cohesively deliver a stand-out, relevant brand.
The brand strategy includes:
Goals. Your unique brand strategy goals will entail creating brand awareness, brand equity, and positioning. As you develop your strategy, you will keep your goals in mind and ensure every detail flows toward your vision.
Challenge & Competitors. You need to know your competition and understand your challenges to create an effective brand strategy. Design your plan to help your brand stand out from your competitors.
Personas. Knowing your target market is essential for designing a relevant brand strategy. Create customer personas, which include mapping out their pain points, challenges, behaviors, and patterns to craft a strategy that allows you to communicate with them in a relevant way, offering them solutions to their problems.
Positioning Framework. Setting your strategy up to deliver the right message to your audience at the right time is positioning. With intentional positioning, you can execute a strategy that sets you apart and brings your brand awareness to your audience.


What is a Communication Plan?
A communication plan is a dedicated guideline for launching your brand strategy. Your communication plan should include four essential elements to ensure the marketing communication strategy will work.
People (your audience): User stories — what is your audience's problem? How do you help solve the problem for them? How are you resonating with their situation? How are you going to reach them?
Message (what you're saying/selling): Marketing funnels — what is your audience searching for? What can you provide them that helps educate them on opportunities and solutions? How does that tie into their story and problem?
Timing (day, week, month, season, etc.): Content calendar — helps plan timing and deployment of campaign assets
Place (channel you chose): Email, blogs, social, etc. — how are these performing? Are they reaching people as you intend? Where do you have new opportunities?
Strategizing and Planning Feels Overwhelming
Here Are Four Workbooks to Get You Started
Start with a solid foundation — that's where your brand strategy saves the day. Start by evaluating your brand and the components that fuel your strategy. Do you have them documented? Do key stakeholders all agree on these elements?


Define Your Goals
Your goals include awareness and positioning. It's essential to lay out the exact results you're hoping for to create an effective strategy to get there. If you are hoping to increase your conversions and build customer loyalty, then you will want to create a brand strategy that leads in that direction. Knowing your goals helps you to deliver the most effective strategy.

Define Your Competitors & Challenges
Knowing where your competitors stand is essential when creating a brand strategy. It's the best way to position yourself for success, helping you stand out from the competition and increase your chance of gaining leads and customers.
We've developed our Brand Strategy Worksheet to help you define your brand strategy's goals, competitors, and challenges — download and complete it today to see where you stand.
Define Your Personas
Defining your customer personas includes research with questions, analysis, and intricate details. Ask yourself open-ended questions that can help you build your persona to deliver a more effective marketing campaign.
Define Your Positioning
Your strategy positions your business in the right place. Meaning clearly defining your strategy and setting it up to heed your target audience's needs. Everything you execute focuses on gaining the proper positioning.
Kick Start Your Strategy
Two Workbooks to Make it Simple

Define Your Marketing Metrics
Marketing metrics are a straightforward way to track the performance of a campaign. They deliver the information needed to ensure you have a flawless plan for communicating your brand strategy. Defining your marketing metrics means choosing what metrics you want to focus on. Which metrics provide you with the most critical information? Choose the metrics you want to follow and create a plan that showcases these results. You'll know what you need to look at and what you don't. You'll know what information matters and what doesn't.
Define Your Communication Strategy
Use the digital marketing template to define your communication strategy clearly. This template will help you create a communication plan to launch your brand strategy effectively.
Are You Set Up for Continuous Growth?
Regardless of Where You Are Now, A Successful Strategy will Help You Go Further
The best way to make your target market aware of your business and encourage them to convert is by focusing on your brand strategy and communication plan. With an effective communication plan, your brand strategy will deliver results. The two marketing tools work cohesively to bring about a successful marketing campaign.
If you're ready to start growing your business, assess your growth potential. This is designed to help you see where you measure up and what opportunities you need to focus on.