Businesses have many common problems when they are working to build their brand. They might have trouble increasing brand equity or the commercial value of the brand itself, not the value of the product or the services the brand advertises. They might struggle to connect with their target audience due to improper messaging and communication. They might have difficulties standing out in a crowded marketplace. Or worse, they might not be known at all in their marketplace or niche.
The solution to these problems is a brand strategy. Developing a thorough brand strategy increases your visibility and perceived value in the marketplace. What is a brand strategy? It is a holistic approach to building identification and favorability with customers and potential customers. A brand strategy encompasses several elements like voice, storytelling, brand identity, brand values, and overall feel, which we will cover below. However, we specifically want to use brand strategy to build your brand's equity.
Building A Brand Strategy Now Lays the Foundation for Future Success
Your brand reflects who you are and how you want our users to feel when they use your products. It's the unique combination of your mission, values, and principles that drive your promise to unleash the potential of every team. To give your brand the consistency and weightiness it deserves, you should devote time to building a brand strategy. A brand strategy improves your brand equity in the marketplace. What does that mean? It means, in short, that your brand itself will become a thing of value, in addition to the products or services you provide.
Taking the time to build your brand strategy will have many net positives for your business. A positive brand reputation makes it easier for a company to attract new customers and retain existing ones. Prospective clients are more likely to pay a premium for products or services if they perceive that it is attached to a good and well-regarded brand. A well-developed brand strategy can help differentiate your company's products or services from your competitors.
Additional benefits of a brand strategy:
Develop greater market share
Easily extend your product line
Have a greater impact as a company
Your Strategic Guideline: The Keller Model
Keller's business Equity Model is an excellent structure for any business. Marketing professor Kevin Lane Keller popularized the method in his book "Strategic Brand Management," also known as the Customer-Based Brand Equity (CBBE) Model.
The core idea behind the Brand Equity Model is simple: to build a successful brand, you need to alter consumers' impressions of your product or service. You need to provide people with the right sorts of brand experiences so that they associate your company with positive thoughts, feelings, beliefs, attitudes, and perceptions.
Those who believe in your brand will spend more money with you, brag about you to others, and be less inclined to switch to a competitor.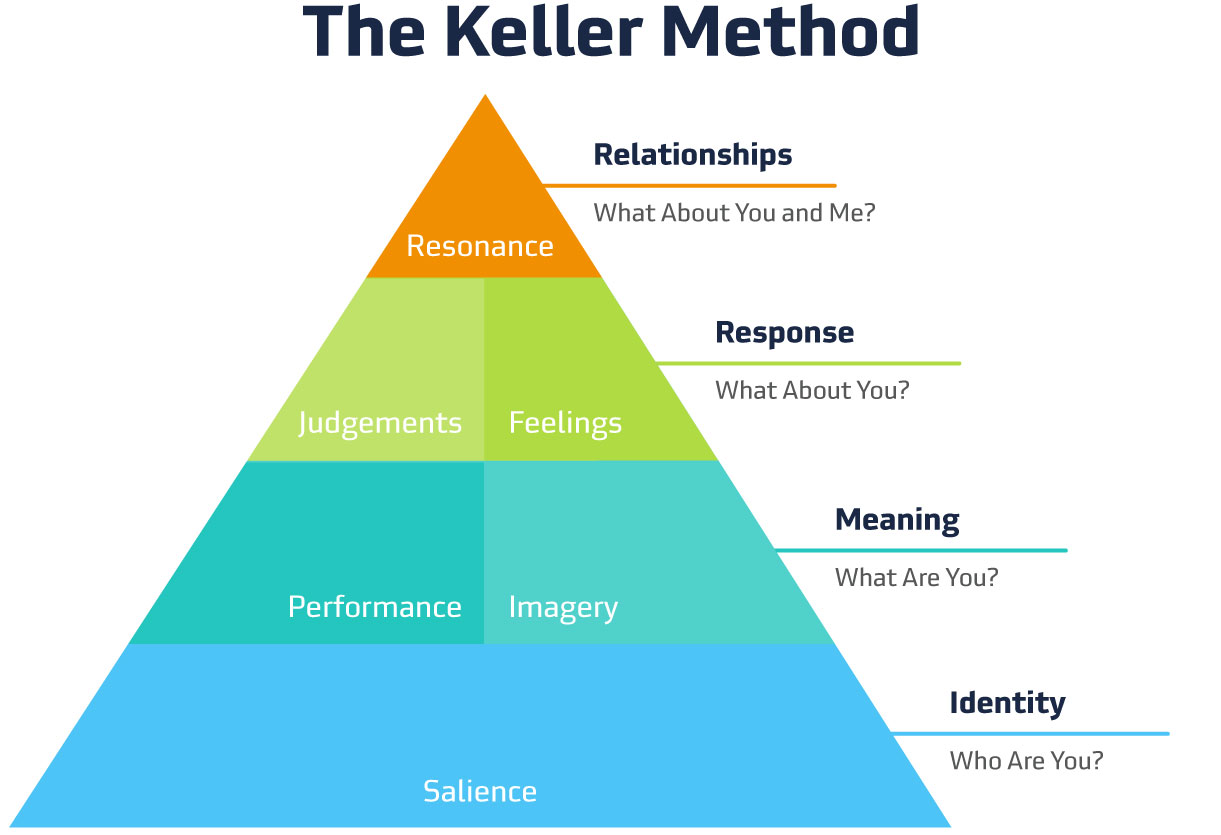 The Keller Method: How to Use It
1. Create a brand identity first.
In this situation, "Who are you?" is the most pressing inquiry. Brand awareness, or salience, describes how well-known your company is among target demographics. How do people see your company, and how correct are their impressions?
Learn your brand's purpose and share it with the world.
2. Performance and imagery are the fundamentals of stage 2.
Product performance reflects how successfully you're able to meet your consumers' expectations. Is the product as good as it sounds? Does it perform as promised and satisfy expectations?
To make things easier to understand, Keller's approach separates KPIs (key performance indicators) into five distinct groups.
primary characteristics and features
product reliability, durability, and serviceability
service effectiveness, efficiency, and empathy
style and design
price
3. Your brand's "imagery" is equivalent to its "social currency."
What kind of impression does your brand make on consumers, and what kind of buzz will your brand generate? Take attention to your message construction, audience selection, and message delivery.
4. When they think about your brand, what emotions do they feel?
People continuously extrapolate from their observations and form opinions. What do consumers relate to your company? How does the consumer feel about it, and how do they perceive it?
5. Recognize the significance of the bond you've established with your clientele.
Keller's pyramid is structured with resonance at its apex and for a good reason. It's usually the hardest plateau for a brand to hit.
Resonance is the degree to which a consumer feels a connection to a brand. This is the kind of committed partnership your company seeks to establish with each and every client it acquires. The goal is to have such an impact on consumers that they become not only loyal customers but also vocal proponents of your brand.
Resonance may be increased via the use of loyalty programs, consumer involvement through the Internet and social media platforms, and the formation of emotional relationships.
To achieve a strong foundation to build a brand, we must start with the challenge.
Your Challenge: Acknowledge Where You Are and Plan for Greater Success
Goals:
When setting goals for your brand strategy, you need to ask a few important questions, including the following:
What are we trying to achieve?
Where is our brand currently falling short?
What are we doing well?
Competitive Audit:
One good way to get a feel for a market is to check out the competitors or alternatives in the marketplace. To keep ahead of the competition, it is crucial first to thoroughly examine their methods and tactics.
For the best results, closely examine 3-5 competitors or alternatives for your business.
Take time to document and understand their value proposition, who they sell to, the problem they solve, and their approach to sales.
Positioning Framework:
Once the challenge components are defined and evaluated, you will build your positioning framework.
You'll want to know your brand vision, mission, promise, commitments, and actions. Brand positioning refers to the unique value that a brand presents to its customer. Businesses create a positioning framework to establish their brand identity while conveying their value proposition, which is why customers prefer their brand over others.
Example of a positioning framework: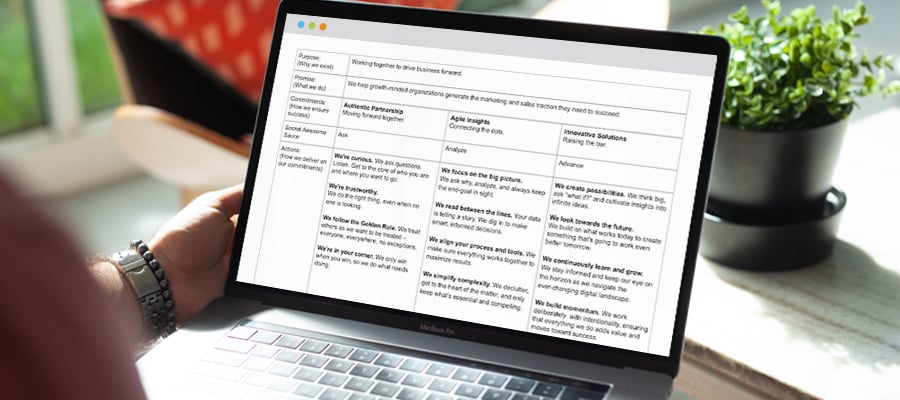 Components of a Brand & Positioning Framework:
Vision: Brand vision refers to the ideas behind a brand that help guide the future. The brand vision is a one-liner that defines the purpose behind a brand's existence.
Mission: Brand mission clearly communicates our purpose. This is why we exist and how we plan to serve our audience. This often is a positioning statement that reflects how we're going to transform our audience's lives.
Promise: The brand promise is the value or experiences our customers expect to receive every time they interact with that company. It's what we do to deliver on our purpose.
Commitments: Brand commitments are what our brand and business are committed to doing to fulfill the vision, mission, and promise. This is how we ensure our customers are going to achieve success.
Actions: Brand actions are how we deliver on our commitments. These actions are the values and principles that drive our entire brand and team to unleash the potential of our customers.
Personality: Brand personality is a critical component of brand positioning and differentiation. An effective brand personality humanizes a brand, giving it depth and nuance and making it relatable to its target audience. Brand personality is part of your brand with which your customers identify and build relationships.


Build a Growing Brand to Achieve Long-term Success
A brand strategy includes goal setting, a competitor audit, and a positioning framework. A brand positioning framework comprises the brand mission, vision, promise, commitments, actions and personality. These pieces of a brand framework will work together to increase your brand equity, help you connect with your target audience, and attain greater visibility and market share.
You can increase your sales and scale your business with a strong brand strategy. If you still feel uncertain about how to take the next step, get our free Brand Strategy Worksheet. We can help you through the entire process!