A US grain exporter upgraded their website to improve customer experience that builds stronger relationships.
Agrex Inc. (Agrex), a wholly-owned subsidiary of Mitsubishi Corporation (MC), has been responsible for MC's North American grain business since 1971. Agrex is a full-service agricultural commodity trading company handling grain, oilseeds, feed ingredients, hay, and many other food ingredients from origination and marketing to financing and logistics. Agrex is a leading US grain export market with sales to international markets, including Japan, China, Korea, Taiwan, South East Asia, and Mexico. Agrex is headquartered in Overland Park, Kansas, with grain elevators across the Midwest and merchant offices nationwide.
As Agrex grew and more clients wanted to connect online, they knew a website redesign was in order. They needed to modernize their position in the digital marketplace. To tackle this project, they hired TANK New Media (TANK). It wasn't the site aesthetics that needed an overhaul; it was the user experience that was in desperate need of improvement. TANK's goal was to make the site user-friendly, improve customer experience, and increase engagement opportunities.
Since usability was the primary focus of the website redesign, TANK focused on the site architecture, content organization, information hierarchy, page layouts, integrations, and more.
A website with a clear site structure and organized content for better usability
After developing logical site architecture, the TANK team shifted their attention to functionality, design, and page layout. TANK felt that they could address a significant portion of the poor user experiences in this step.
Using existing content from the website as the blueprint, TANK developed a sitemap and page structure to better highlight Agrex's services, locations, and related information.
The content was regrouped and reorganized, and a variety of new page layouts were created so users would be served information relevant and valuable to their search in easily consumable formats. TANK built separate listing pages and detail pages, which created a logical hierarchy and clear topic associations. Previously, the Agrex site lumped all related information together and on a single page template, which made it difficult to digest.
A website that listed a network of merchandisers and offered a detailed at-a-glance view
Agrex takes great pride in their network of locations and their ability to handle a wide range of commodity products domestically. Each of their offices had highly capable merchandisers familiar with the local market conditions and connected to a global network of market information. The website needed to showcase this network of merchandisers.
TANK reworked the locations section of the website to make it better for users. They leveraged integrations like Mapbox and DTN that allowed Agrex website users to engage with the locations they were interested in and get up-to-date information specific to each site.
Mapbox was utilized on the locations listing page to provide a high-level overview of all the offices and elevators. This was coupled with pop-over pins and a table listing that contained specific detailed information for each location, including phone numbers, addresses, commodities available for trade, and trade availability. This at-a-glance view allowed users to quickly see the availability and accessibility of the Agrex merchandiser network.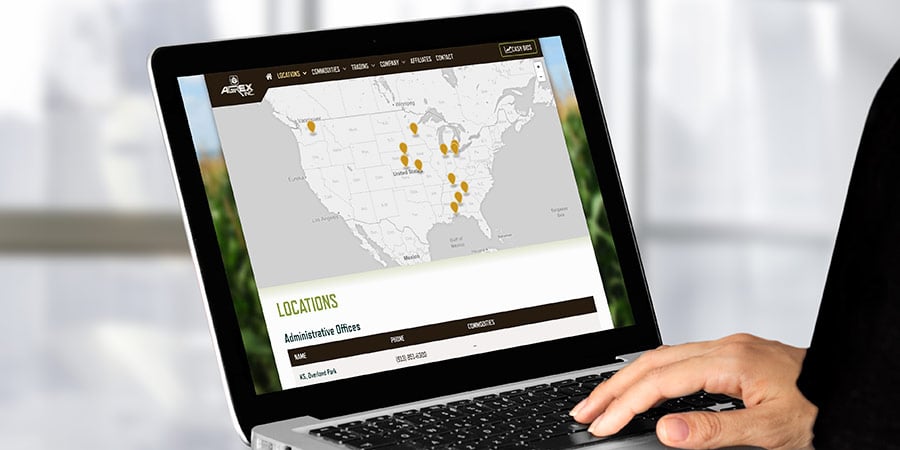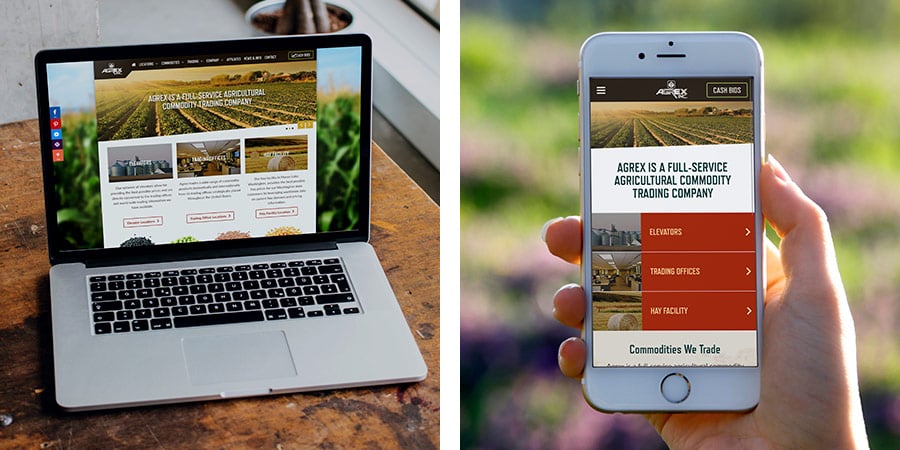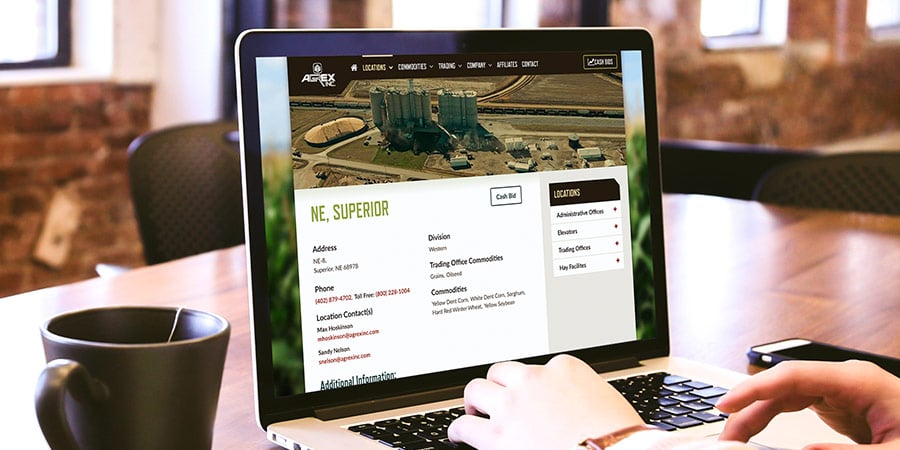 Once users had clicked on a location detail page, they could see all critical details, including commodity and trade information, along with merchandiser contact information. Because DTN was integrated into the Agrex site, highly-detailed and specific information tailored to each location, like real-time weather radar, was pulled into the site instantaneously. Plus, up-to-date cash bids and futures were all available to users without having to leave the location page. This upgrade made location pages a high-value resource to website visitors. By having a well-structured locations section, Agrex could ensure that each of their customers had accurate and current information about commodities and trading.
A website that provided real-time updates was a significant win for users
With a freshened design and an improved user experience, the visitors of the Agrex site had a centralized hub of relevant and real-time information to meet their needs and access to the entire Agrex network of merchandisers. For easy content updates, the site was built on an intuitive content management system, allowing Agrex to update their website content effortlessly whenever needed.