Use sales enablement technology to streamline your sales processes, save time, and close deals faster.
Many manufacturing companies create proposals and quotes in Microsoft Word or Google Docs. This process is not only time-consuming but susceptible to manual error. From there, each piece has to be printed out, signed, scanned, and returned. There's so much time lost in this process from beginning to end.
The time spent doing sales-related administrative tasks doesn't make your company money, but using the right sales technology can change everything.
Imagine maximizing your sales by leveraging your existing sales team (or salesperson). The right technology paired with your sales process can speed up your sales process and save valuable time.
Friends, this is an integral part of sales enablement.
What is Sales Enablement?
Sales enablement is the knowledge, process, technologies, and content that improves sales performance. It makes sense, then, that to enhance the productivity of your sales team, they need these resources. To start, let's focus on two: knowledge and content.
1. Knowledge of the buyer's unique priorities and challenges
Most B2B and manufacturing businesses aren't giving their sales teams the knowledge they need to have value-added conversations with their buyers. 71% of salespeople say they lack the knowledge needed to sell better and increase their close rates. A clear-cut process for identifying what is most important and most challenging to the buyer does not exist — thus, salespeople understandably struggle to gain rapport and trust.
2. Content that speaks to the buyer's unique priorities and challenges
Once the sales team has a process for understanding what is most important to a buyer, we need to arm that sales team with the content and tools to deliver highly tailored proposals and other sales collateral, customized to the buyer's unique situation and the recommended solution.
What Makes Good Sales Content?
Sales content is the charts, articles, proposals, slide decks, and more that are used to upsell and convert your opportunities into customers.
Sales content is a critical part of the selling process. However, many sales teams spent too much time creating these documents. The time it takes to execute documents like proposals and contracts is time away from revenue-driving activities like prospecting and talking with qualified opportunities.
When organized properly, proposal templates and reusable, evergreen sales collateral can serve as the springboard that enables the sales team to create more contextual sales documents that speak to the buyer's situation and challenges without starting from scratch each time.
Remember, your potential buyers want to engage with content throughout the sales process. 95% of buyers choose businesses that deliver helpful and tailored content to navigate them through each stage of the buying process.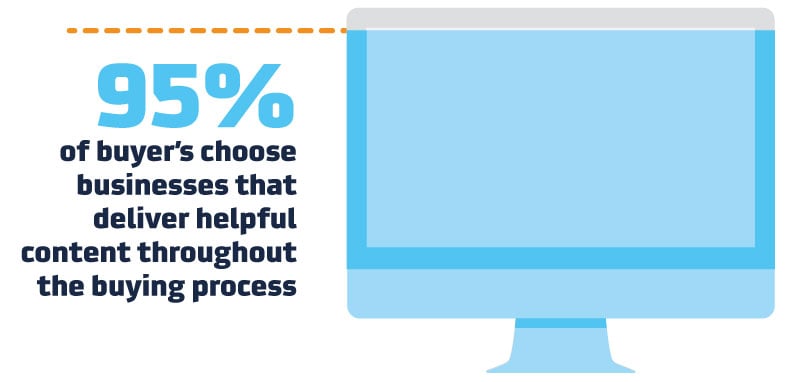 Valuable, prospect-specific sales content that is turned around quickly often leads to higher close rates.
Why Should We Adopt Sales Enablement?
Sales enablement provides your sales team with the resources they need to close more deals, which benefits the entire company. If closing more deals isn't reason enough, here are four more reasons why every company needs to create and adopt the sales enablement pieces that set up their sales team for success.
Reasons why every company needs sales enablement:
1. To align marketing and sales efforts
The marketing team may bring a ton of leads to the sales team, but if those leads aren't converting into customers, frustration and tension can form between the two departments.
The marketing team feels like they're doing their job by providing sales with quality leads, but the sales team isn't doing their job to close them. And vice versa — the sales team feels like they're doing everything they can to close deals, but the collateral and assets they were given by marketing are inefficient or inaccurate. This mentality is a slippery and dangerous slope.
Sales enablement begins with the marketing and sales teams working together to understand each department's needs and perspectives. When the two departments talk, the marketing team can create collateral that will genuinely assist the sales team as they work to close sales. Without a proper sales enablement plan in place, neither team will be successful.
2. To get more out of the sales budget
Leads are valuable, but opportunities — those who are primed and ready to buy — provide even more.
Likely you are spending more money nurturing an opportunity into a sale than you are converting a lead into an opportunity, but both are important. Sales enablement strategies allow you to do both at the same time without putting one over the other. But, don't forget about cultivating lifetime value (LTV) of your current customers.
Enabling your sales team with knowledge, helpful content, and the right tools will allow your company to build up the sales pipeline with leads and opportunities and increase customer LTV simultaneously — and you don't even have to hire more sales staff. Talk about maximizing your sales budget!
3. To increase sales
Stop wasting time on poor-fit prospects. Start bringing in more better-fit leads by creating and implementing a sales enablement plan that's beneficial to your business. Sales enablement can shorten your sales cycle, which increases efficiency and revenue.
Did you know that 75% of companies have reported an increase in sales of between 6% and 20% as a result of sales enablement processes?
On top of that, sales reps are more productive when they feel empowered — and sales enablement does just that. It empowers sales teams to sell better and close faster while maintaining sanity. Always a plus, right?
What company doesn't want their team to be productive while increasing sales and ROI?
4. To beat the competition
Even with tried and true technology at our fingertips, many manufacturing and B2B companies still aren't implementing effective sales enablement for many reasons. To gain the edge over your industry competition, put a sales enablement plan in place now. Sales enablement is quickly becoming the new normal, so don't miss out. There are a lot of opportunities for your business to win new business.
The Power To Close Through PandaDoc + HubSpot CRM
There are many ways to enable your sales team, streamline sales processes, and close deals faster. To start, pick one or two that you'd like to focus on first. We suggest looking at your tools, two in particular: a CRM system and an all-in-one document automation software with built-in electronic signatures, workflow management, and a document builder.
For the CRM system, we recommend HubSpot's CRM. For the document automation software, we recommend PandaDocs. Get this — if you like both, they can be seamlessly integrated. Talk about an awesome way to enable your sales team!
Here's the skinny. PandaDoc integrates with HubSpot CRM to provide everything you need to build and store sales documents in one place. You can pre-populate deal documents with custom fields, contact information, products, and pricing. No more copying and pasting. Send error-free documents, track them, and allow your clients to sign your documents using PandaDoc's secure and legally-binding eSignature technology.
Ready to speed up your sales process and save valuable time without hiring another team member? Learn more by downloading our PandaDoc + HubSpot CRM power play ebook.
More resources