7 min read
Can Your Company Grow Better With the HubSpot Platform?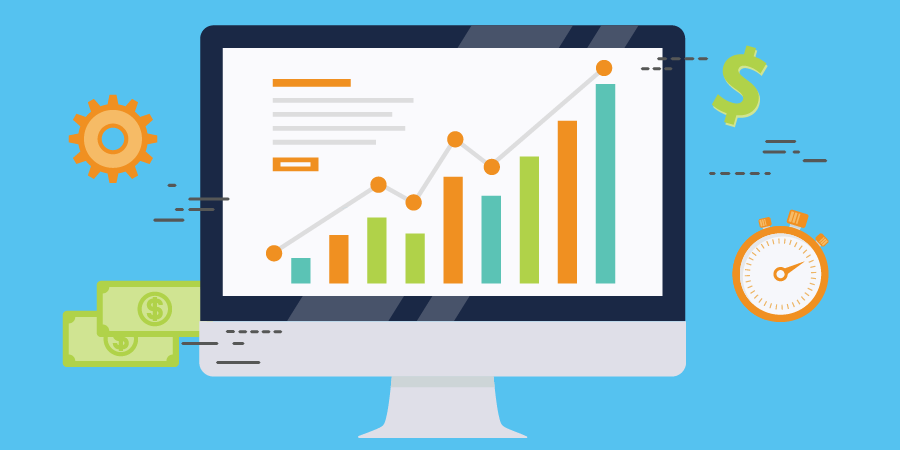 Discover why B2B companies are leveraging HubSpot's Growth Suite to grow their companies better — it could work for you, too.
Name four things that keep your company from growing. What's holding your company back? You may be thinking, "Limit it to four? I can think of a dozen!"
In this post, we're going to look at four specific areas that seem nearly impossible to get perfect and almost always need improving, but if they could be solved, could propel your company out of stagnancy and onto a growth trajectory.
Here are the four areas:

Improving Sales team efficiency
Establishing and maintaining transparency, collaboration, and communication between Sales, Marketing, and Customer Service
Securing more high-quality leads
Decreasing client churn & improve retention
As businesses grow and mature, these three things are in constant flux because they're always changing to align with your vision, size, and growth goals.
If these issues are stunting your growth, what can you do to solve them? How can you grow better?


What Does "Growing Better" Mean?
Growth is a popular buzzword and is often pursued at the expense of company health, employee wellbeing, and the best customer experience.
In short, growing better is:
Growing at a rate that allows company stability
Growing in ways and rates that are sustainable for your company, team, and customers
Staying focused on the mutual success of your company, your team, and your customers
Not growing only for the sake of growth
Now that we understand a bit about what it means to grow better, let's talk about why we want to grow better.
Why Should B2B Companies Grow Better?
Growing better takes into consideration the key pain points of growth and focuses on planning for them and resolving them as quickly and effectively as possible.
For B2B manufacturing companies, this often includes budgeting and planning for changing equipment, building, and inventory requirements.
For B2B service companies, this often includes hiring and training additional staff to support the growth goals.
When a company grows, it tends to create stress in a few key areas that can lead to massive cracks in the health of the company if not anticipated.
These stress areas include:
The capacity of the sales team to follow up with new leads, prospects, and existing customers, plus it meets their needs and provides a great buying experience*
The capacity of the operations team as they have a higher volume of services or products to produce as well as staff to train and equipment to add
The capacity of the customer service team to provide timely response to issues*
Inventory or delivery times for product-focused companies
Increased completion timeframes or long wait times for appointments for service-based companies
*As sales volume increases, the onboarding and education process tends to be the first to break down. As the onboarding/education process breaks down, you will start to see higher levels of tickets and issues per customer over the lifetime of the customer because of this.
So, let's get into the fun stuff. How can you address the three growth pain points listed earlier and the stress areas mentioned here? Cue HubSpot Growth Suite.
Many companies are beginning to leverage HubSpot Growth Suite. Why? Because it's helping them to push past their current stagnancy and set them on a growth trajectory.
HubSpot's Growth Suite addresses sales team efficiency, Sales & Marketing integration, better management of leads, client churn, and improved retention.


1. Improve Sales Team Efficiency
As a business leader, you know that the sales team can be the key to your growth. But did you know that most sales reps spend less than 50% of their day actually selling? Yes, those thoughts in the back of your mind about your sales reps not being efficient enough, those are real fears. When we think about it, what have we really put in place to help your sales team be efficient?

These things lead to frustration, cynicism, and poor performance by the entire sales team driving production and revenue down while increasing turnover.
So, let's work to improve the sales team's efficiency. Let's implement an efficient CRM that is focused on making reps successful!
This is where HubSpot's CRM shines.
HubSpot's CRM will automatically log your reps emails, phone calls, and scheduled meetings. It integrates with Gmail and Outlook to make life simple and seamless.
HubSpot's sales tools can also transcribe your calls, show the potential for a lead to close in the next 30 days, and prioritize which leads you should strategically engage with and actively pursue.
If that's not enough, you can store all your email templates and meeting scripts inside of the platform.
These things all work together to decrease the amount of time your reps spend NOT selling. Good for your business and good for the reps. We all like when things are win-win.
Client Success Story: Sales enablement with TANK New Media and HubSpot helped Pack Leader USA close 75% more deals with their existing sales team.
2. Improve Sales & Marketing Integration
Your marketing department most likely has one primary pain point: knowing what leads are actually turning into revenue and becoming good-fit clients and repeat customers.
When this pain is solved, the marketing team can begin to optimize their process based on actual success for the business, not just department-level metrics. This gives marketing clarity and allows them to drive better leads to the sales team making the sales team more effective which drives increased revenue!
Many companies are looking for a way to integrate their marketing and sales so that they can see which marketing efforts are driving high-value leads to the Sales team and, of those leads, which are being closed. They also want to know if the Sales team is getting too few or too many leads — both of which have their own set of problems.
When you run both marketing and sales from the HubSpot platform, you can close that gap and make life easier for your growth teams (marketing and sales).



3. Generate More, Better Qualified Leads
As leaders responsible for company growth, the starting point of that is almost always generating more leads.
HubSpot can help facilitate this through optimizing your website, blogs, and landing pages for organic traffic, allowing you to nurture your leads via email and social media, marketing automation, live chat, and chatbots, as well as integrating with the Facebook and Google ad platforms and a host of other 3rd party lead generation and nurturing platforms.
Know what marketing activities are generating leads and what the conversion rates of those leads are through the lifecycle stages until they become customers. See the data from the sales team on what type of leads or source of leads are converting at the highest rates or closing the fastest. Data is power.
As marketers, we want to optimize everything, but without data on what is happening after leads are generated, we are optimizing based primarily on vanity metrics which may or may not drive the business forward.



4. Decrease Client Churn & Improve Retention
After you put in all the hard work to win those clients for your company, the last thing you want to happen is for the customer to leave for one of your competitors.
Improve your retention by implementing the HubSpot Service Hub which allows you to:
Create a knowledge base of common questions and answers
Create tickets and manage them inside of your same platform
Give marketing, sales, and service transparency into customer issues which allow for proactive conversations, better education, and communication, or the potential to provide additional services or products to solve pain points
The cohesive, high-transparency of the HubSpot platform allows all customer-facing teams to understand what is happening across the lifecycle of a client and optimize and improve your positioning, communication, processes, and staff overtime.
All of this sets you up to grow better as an organization.


Where to Grow from Here
Growing better is hard. It takes discipline and consistency. It's easy to get distracted by shiny objects or the promise that all your problems will be solved when you hit a certain staff size or revenue goal.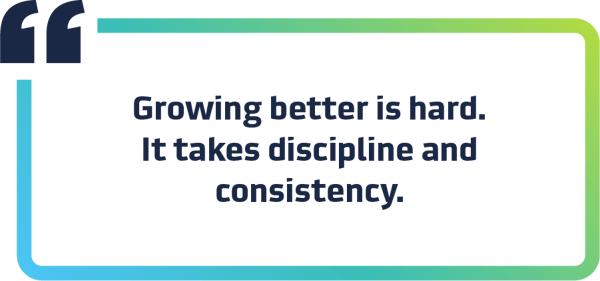 They won't. The key to growing better is learning to solve problems where you are now and with what you have now. (And maybe adding HubSpot.)
Discover how one of our clients is following these steps to grow better.