Challenge
Since 1971, Operation Breakthrough has grown into the largest single-site childcare center in the state of Missouri caring for nearly 400 children every day.
In addition to to early childhood education for 250+ children, the center also provides before and after school services to 100+ children. The center provides emergency services food, clothing, diapers, on-site medical and dental care, occupational, speech and play therapy. For the children's parents and caregivers, the center also provides programs and case management. In order to better serve the children, Operation Breakthrough has recently gone through some major improvements to modernize and expand their impressive facility. Operation Breakthrough even added a new creative space for the children where they can sew, build and create; learning valuable problem solving and creative skills to help put them ahead of the curve.
Just like the facility, the old website was in need of some major updates in order to keep up with the needs of the growing organization. Their current Content Management System was no longer being supported and had become very out-of-date making it a limiting factor for making necessary content updates. Over time, the site architecture and content had grown stale and difficult for users to navigate, particularly on modern mobile devices. The old site was no longer adding value to the Operation Breakthrough brand and all of this was adding up to significant lost opportunity cost in the form of online donations and community involvement.
Solution
During the strategy phase of the project, we discovered that Operation Breakthrough had a library of high quality photos and videos of the children, programs and teachers that really helped tell their story. These assets were leveraged throughout the new site to help make a personal connection, increase engagement and inspire action.
The site was restructured and rebuilt from the ground up on a more flexible content management system called Craft CMS. TANK also simplified several technical integrations to streamline their processes so the new website is much easier for the staff to maintain, and keep current. The photos and videos of the children and facility now mirror the brand experience we had when visiting Operation Breakthrough in person. The new responsive mobile experience allows users to easily donate, signup for events, read success stories, and volunteer regardless of what device they are using.
Results
Since launching the new website, Operation Breakthrough has received positive feedback from all fronts, including: the board, employees, volunteers, and most importantly the Kansas City community.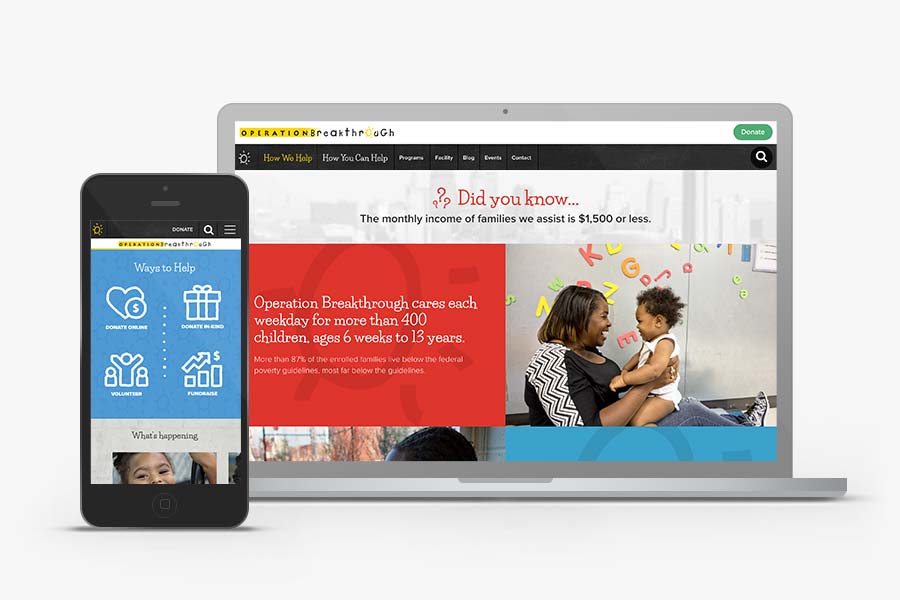 CLIENT TESTIMONIAL
"If you ever want to work with people who are confident about what they do... they're caring about what they do – you need TANK New Media." -Lee