5 min read
How Pack Leader USA's Branded Sales Collateral Impacts Prospects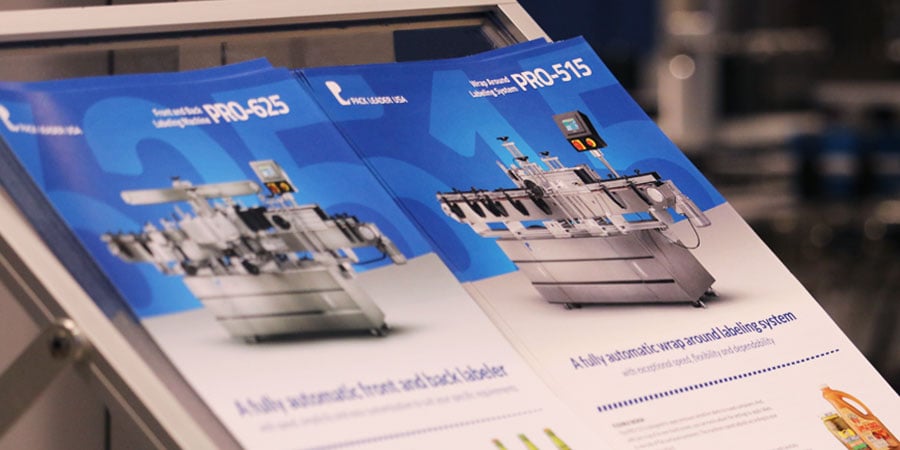 The Pack Leader USA's sales team relies on a robust library of sales collateral to support the sales process and provide quick and helpful answers for customers.
Pack Leader USA is a full-line manufacturer of pressure-sensitive labeling equipment that sells to end-users and distributors across North America.
After our team implemented the HubSpot CRM and spent time tracking data, behavior trends and common questions of Pack Leader USA's prospects emerged. Companies in their niche industry were asking specific questions consistently, and the sales team found themselves sounding like a broken record — answering the same questions over and over.
It quickly became apparent that there was an opportunity to improve efficiency by creating sales documentation that would help educate the customer before and during the sales processes which would cut down on the time each sales representative had to spend educating customers on the equipment.
E-book guides created top-level educational content for buyers who are just starting the labeling equipment search.
We found that customers in the awareness stage of the buyer's journey were looking for information that educated them on how to evaluate labeling equipment and what to consider during the buying process. This was a perfect opportunity for Pack Leader USA to provide those answers in an educational and easy-to-find e-book.
To provide what prospects were looking for and to free up the sales team precious time, we recommended creating a set of downloadable e-book guides to point customers in the right direction as they began to evaluate labeling equipment.
Pack Leader USA created a library of evaluating labeling equipment guides tailored to specific industries. This was important because Pack Leader USA's niche includes industries that have questions, problems, and solutions that need to be addressed differently. For example, the type of containers used varies from industry to industry — making it essential that the guides reflected the problems and concerns that specific industry faces.
These sales collateral pieces are designed as awareness-level offers, which means the people reading them are just starting their buying journey. They're not picking out the machine that best suits them or which company to go with; they desire more high-level information — so the design and content on these documents need to accomplish that goal.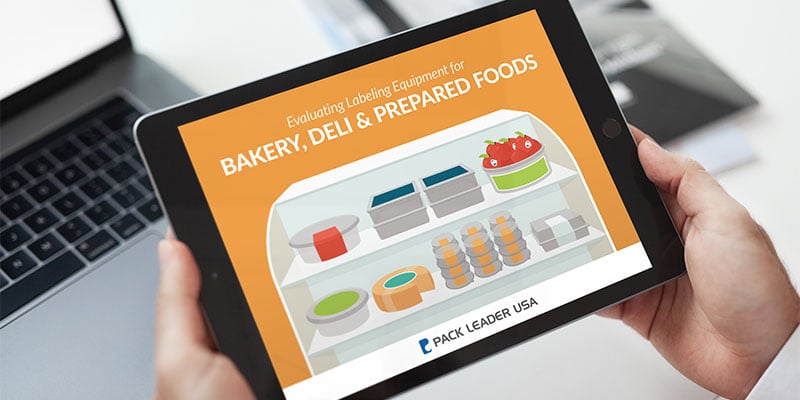 In this case, we chose to keep the branding to a minimum. Because the content was an overview of labeling equipment and not about the specifics of the company or their machines, the e-book was given a generic design (generic doesn't have to mean bland or boring!).
We added illustrations throughout the e-books to reinforce the content visually and make it more digestible. Even as adults picture books are still a fan-fav, right? We made sure the graphics included containers and labels that were relevant to each niche and created separate color palettes to represent each industry.


These e-books not only allow for the sales representative to cut down the time they spend educating customers, but they also help provide valuable insights to potential buyers which makes them a win-win solution for both parties (*queue the touchdown dance*).
Sales collateral and equipment sell sheets provide details and specs on Pack Leader USA's vast variety of machines.
Because the Pack Leader USA sales team showcases equipment at trade shows throughout the year, they needed branded sales collateral to hand out to interested attendees and potential buyers. The sell sheets need to be consumable and helpful, providing enough details and specifications about the machines without being overwhelming. These pieces were also added to Pack Leader USA's website as downloadable resources for prospects and customers to reference and share with other stakeholders.
Since Pack Leader USA offers modular labeling equipment — meaning they can be modified to fit the needs of almost any application — multiple machines could seem to be the right fit for a company looking to buy. To remove confusion and bring clarity, we worked with the Pack Leader USA team to develop a set of machine spec sheets that provided detailed information on each specific machine so that customers could easily understand the differences between machines in order to make the best choice.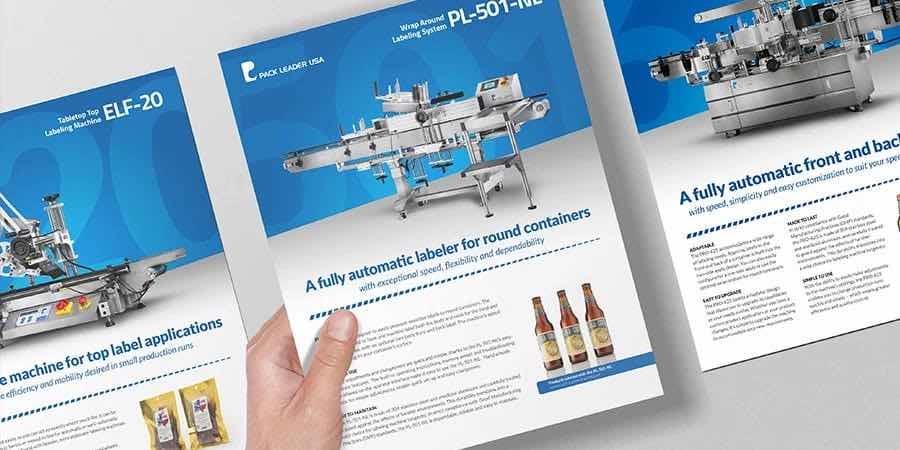 The detail on these machine spec sheets included label types, conveyor speeds, machine size, and weight, power, etc. but also information about the benefits like flexibility, accuracy, practicality, and compliance.
Spec and sell sheets are crucial because they identify what makes your products and solutions different from each other and — and more importantly — what makes your products and solutions better than that of the competition.
The team at Pack Leader USA had already invested in high-quality photography when we teamed up with them for their website redesign. Having great equipment imagery made showcasing the machines on the sales collateral a breeze. From Pack Leader USA's online presence to their sales collateral and print pieces, their brand has been unified and is consistent across all platforms which is vital for successful marketing.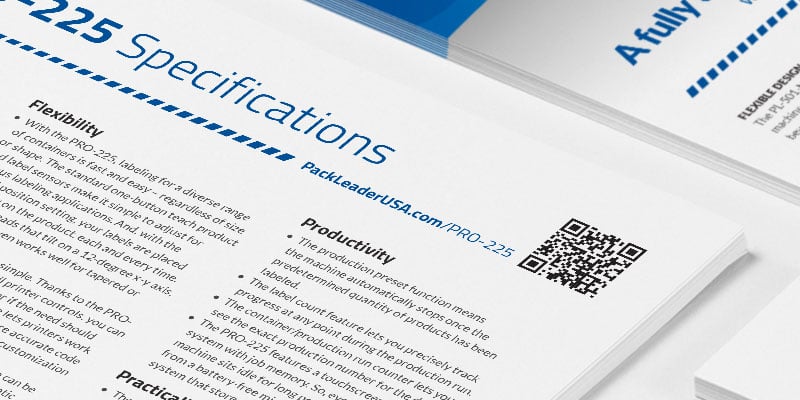 We always want to make the call-to-action (CTA) clear and easy, so people take the next step. While sales collateral is a great starting place, we want the potential customer to take action. CTAs usually encourages a visit to the website to get more information, request a quote, or explore additional options. Our CTAs are often a shortened URL and a QR code. This makes the next step straightforward. Customers don't have to waste time typing in a lengthy URL (or risk getting it wrong). They can simply snap a picture of the QR code and end up where they need to be. It's as easy as following the yellow brick road.
Branded sales collateral helps to develop consistent brand experiences and plays a part in revenue growth year over year.
We want the Pack Leader USA brand to be consistently experienced through everything — and that includes all sales collateral. From the start of the buyer's journey to the very end, customers should have a clear sense of Pack Leader USA's purpose and a roadmap to experiences that are intentional and relevant to them.
Pack Leader USA's branded sales collateral gives prospects the opportunity to be better educated before they connect with a sales representative. Streamlining portions of the upfront sales process has also helped free up time and energy for the sales team to focus on customers farther along in the sales pipeline. While the sales collateral may not be the only component in driving revenue, it does have an impact by helping to increase sales velocity. The increased sales velocity and a continued investment in service and support departments have allowed Pack Leader USA to grow aggressively, averaging 42% growth year over year.
Interested in how Pack Leader USA supports all their sales collateral with an improved web presence? Learn how we gave their website next level traction by reading the Pack Leader USA Website Redesign Case Study.