If you need free CRM software that's at the top of its class, HubSpot has it.
FACT: Effective CRM software provides an organized and comprehensive view of a company's prospects and customers as well as employees' interactions with each.
But did you know that CRM software can also position your sales team to close more deals at a quicker pace? Who doesn't want that?
You can use an Excel spreadsheet to track leads and customers — it's free and accessible — but nothing beats a tried-and-true automated CRM software that works so efficiently that your sales team finds valuable time freed up. Imagine your sales team spending more time selling than doing administrative paperwork.
General benefits of CRM software include —
The capacity to have all contacts in one organized place. Having contacts in a centralized location gives everyone access to updated information, notes from previous conversations, and all actions associated with each contact.


The ability to track and manage interactions with both potential and current customers.

When everyone can see where clients are positioned in the sales funnel, the probability of moving them through the buying process

greatly increases.


The potential to align sales and marketing efforts and eliminate miscommunications. When marketing and sales teams have access to the same information (updated contact info, date of last contact, where they are in the sales funnel), using a joint CRM assures that everyone is on the same page and can best serve each customer.
Don't let a price tag stop you from experiencing all the benefits that a CRM software can provide. Excel might be free, but there are also free and inexpensive CRM software options.
According to Inc.com's article How to Use Customer Relationship Management Software: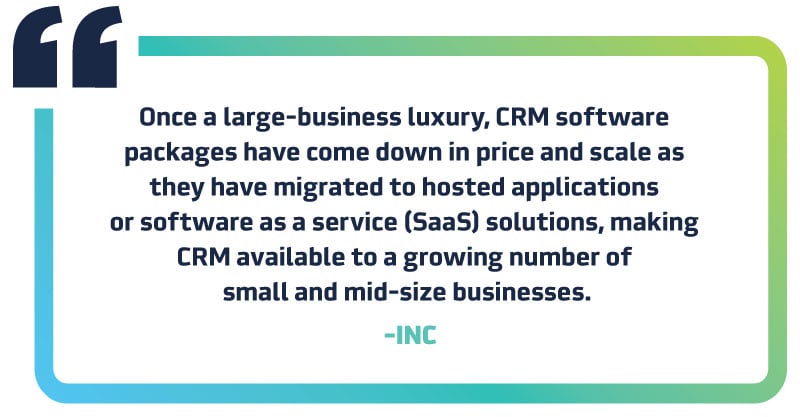 Finding Dependable and Free CRM Software
To save money some companies choose to create their own CRM system by using spreadsheets which require manual updating. However, this process can become cumbersome, time-consuming, and marked by human error.
Who wants sales and marketing teams to waste time on data entry when they can be bringing in and closing leads?
A CRM software that automatically updates and tracks information saves time, money, and unnecessary frustration.
As you begin your CRM search, ask yourself these questions. They will help guide you to the CRM system that's right for your small business.
What core competencies do you need your CRM to have?

Can it track leads and lead activity, maintain an extensive customer base, track opportunities and closing rates, offer connectivity between sales and marketing teams, and generate customized reporting?


What are your integration needs?

While compatibility with multiple systems is becoming less of an issue as more applications are connected through APIs, it's still important to find out if the CRM system you're considering can interface with the applications you already have in place.


Can the CRM grow along with your company?

You can get a CRM system that fits your current needs, but what about five or ten years down the road? It's important to know your growth projections and how the CRM can handle them.


Will your team actually use it?

One of the biggest problems with CRM systems is that people feel overwhelmed by them. Consequently, they don't use the system properly or tap into its full potential. Find a system that works for your team and is intuitive to use.


What reports are important to you?

Make sure your CRM system can produce the reports that you need like a sales funnel analysis, incoming deals volume report, sales forecasting, sales revenue goals, won deals, etc.


Is the system mobile?

Mobility is crucial in today's world. Look for a tool that can be accessed using a variety of web-enabled devices.


What is the monetization plan of the software company?

Will they be around 3-5 years from now? A lot of free or cheap platforms come and go quickly; conduct proper research. Find out HOW they're able to offer their services for free.
Here's a list of top-rated CRM software. There are many to review, and there's a wide range in pricing, so take your time as you figure out which option best fits your needs. There's nothing worse than investing money and time into a system that ends up frustrating your team and not performing to expectations.
We use HubSpot's robust CRM and love it. Some unique features include —
Note-taking capability
Automated email tracking
Call logging
Up-to-the-minute dashboard view of your entire sales funnel
You have nothing to lose trying HubSpot's free CRM software. It has everything you need to organize, track, and nurture your leads and customers.

Your sales team wants to sell — not fight with messy spreadsheets, cluttered inboxes, or clunky tools that slow them down. HubSpot's CRM software automates the tasks salespeople hate and takes minutes to learn — not months. That means doing more deals and less data entry.

Plus, interactions are tracked automatically and deals are displayed on one dashboard for total visibility without added work.

Best of all, you can enjoy up to 1,000,000 contacts, users, and storage without any expiration date — whether you're a team of 1 or 1,000.
And, yes, it's 100% free forever, but upgrades are available.
Put Away the Spreadsheets — Get Your Free CRM Software Today
It's time to put away your spreadsheets and prepare to move to a free CRM software that will improve efficiency, boost productivity and increase sales.
If you're still not sold on HubSpot's free CRM, here are some steps you can take to help you on your CRM hunt.
If you need marketing assistance beyond finding a CRM software that's right for your company, consider hiring a marketing agency — like us! We specialize in branding, website design, digital marketing, and sales enablement.