They needed a website and marketing materials that created an electrifying visual experience to match their striking lighting displays.
Jolt Lighting (Jolt), a modern lighting display and installation company, developed products designed to make the world more colorful and luminous through customizable lighting experiences. Jolt was still signing startup paperwork when they decided they needed to get a company website up and running.
Since Jolt was in a highly visual industry, they needed a website and marketing materials that created an electrifying visual experience to match their striking lighting displays. Each part of their website and every design element on each marketing one-sheet needed to look cutting edge and consistent while effectively highlighting their unique identifiers and resonating with their target customers within various industries. Knowing what they wanted but unsure how to get there, Jolt asked TANK New Media (TANK) to tackle their branding and website project.
A sharp, professional website built on a key brand concept
The goal was to create cohesive branding and a website that fit their unique position and messaging. To start, TANK focused on how each target audience could use Jolt's products, then worked backward to determine discovery paths, functionality, and key technological specs.
Jolt products featured luminous building blocks or blox. Blox are scalable and configurable lighting display solutions. It was this unique attribute that centered and guided the entire branding project and website build. From the blox concept, TANK created a logo and brand system that communicated Jolt's mission and unique selling proposition. Their custom logotype displayed the company name in a simple yet modern manner.

After evaluating the graphics, photos, videos, and other assets that Jolt provided, it was clear there was a significant gap between their marketing and the vibrant, colorful experiences they were providing for their customers. Although they implemented a range of colors in their previous branding efforts, the overall sentiment lacked vibrancy and excitement. This compelled the TANK team to leverage the use of bright and bold colors to communicate Jolt's innate creativity and innovation. Within the new robust color palette, gradients were added to highlight product lines and new product rollouts.

A compelling website that engaged with each unique audience
Jolt needed a modern and compelling website to showcase their exceptional ability to partner with customers in creating amazing visual experiences with the power of light and lighting controls. To accomplish this goal, TANK created a bold but clean logo and cohesive brand system to use on the new website and marketing collateral. These changes made Jolt's brand feel creative, yet approachable while still positioning Jolt as industry experts.
During the website build, time was spent on improving the communication strategy. It was essential to communicate Jolt's expertise, especially as it related to their audiences. For instance, to connect with lighting designers, one of Jolt's target audiences, TANK worked with Jolt to identify terms and language that effectively connect with that niche group, empowering Jolt to build trust and close more sales.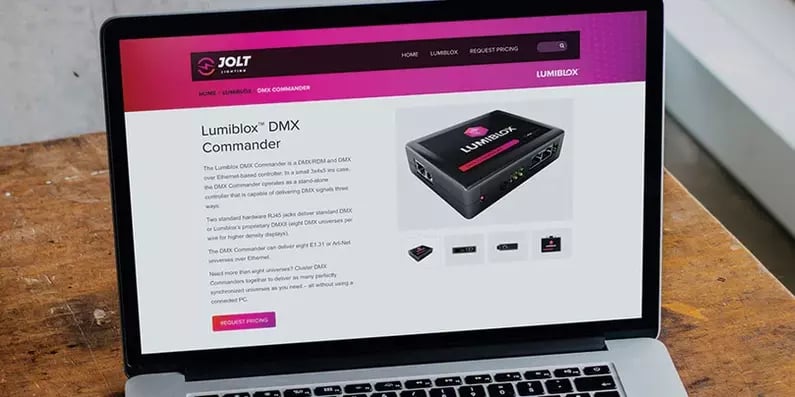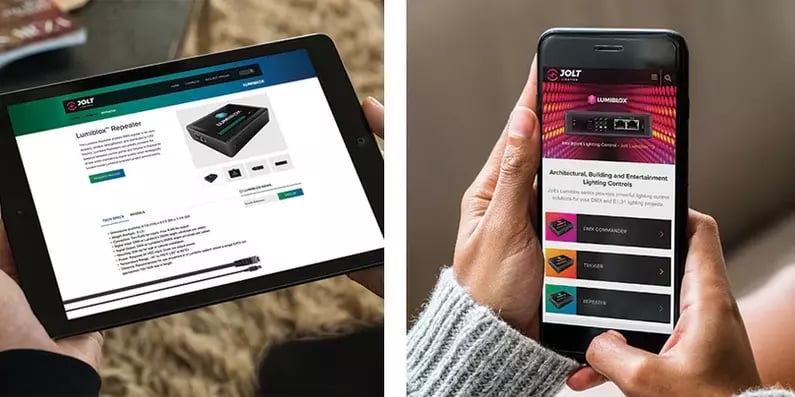 TANK helped Jolt create a unique brand that featured an energizing and custom logo, a modern website that showcased their products and expertise, and product packaging that brought everything together, resulting in an effective and cohesive branding and marketing system.