Branding has become a common practice for manufacturing businesses to stand out. To build a deeper connection with potential customers, businesses must invest in branding to become instantly recognizable. While the era of social media makes branding seem like a 21st-century phenomenon, the truth is branding stems from the 18th century during the Industrial Revolution, when mass production of goods and services became common. One thing hasn't changed from the earlier years to now — all businesses need branding to differentiate their products and attract loyal customers.
Branding During the Industrial Revolution
In the late 1700s, when the Industrial Revolution began — first in Britain and then in other parts of the world — businesses sought a way to stand out amongst their peers. Machine manufacturing increased competition amongst businesses selling the same type of product. This is why they resorted to creating their unique logos, brand messaging, and trademarks; customers were able to recognize the unique traits of businesses.
Customers often associate logos as a trusted symbol of quality. Around this time and later centuries, as literacy rates increased from 50% for women and 60% for men to higher numbers, more people could catch onto catchy slogans and hence recognize brands through words.
During the Industrial Revolution, several pioneering businesses implemented branding strategies that laid the groundwork for modern branding practices. One such example is Bass & Co., a British brewery founded in 1777, which is often considered one of the first businesses to utilize a recognizable logo on its products. The iconic red triangle that adorned their pale ale barrels became synonymous with quality and helped establish their brand identity.
Another example is Coca-Cola, which traces its roots back to the late 19th century. As the beverage industry expanded, Coca-Cola's distinct script logo and consistent branding across its marketing materials contributed to its global recognition and enduring success.
Cadbury, a British confectionery business founded in the early 19th century, also embraced branding during this era. By adopting unique packaging and slogans, like their famous "Glass and a Half" catchphrase, Cadbury established an emotional connection with customers that endures to this day.
These early examples demonstrate how businesses used visual cues, consistent messaging, and reputation to differentiate themselves in a rapidly changing marketplace. Their innovative branding practices during the Industrial Revolution set the stage for strategic brand management in contemporary business landscapes.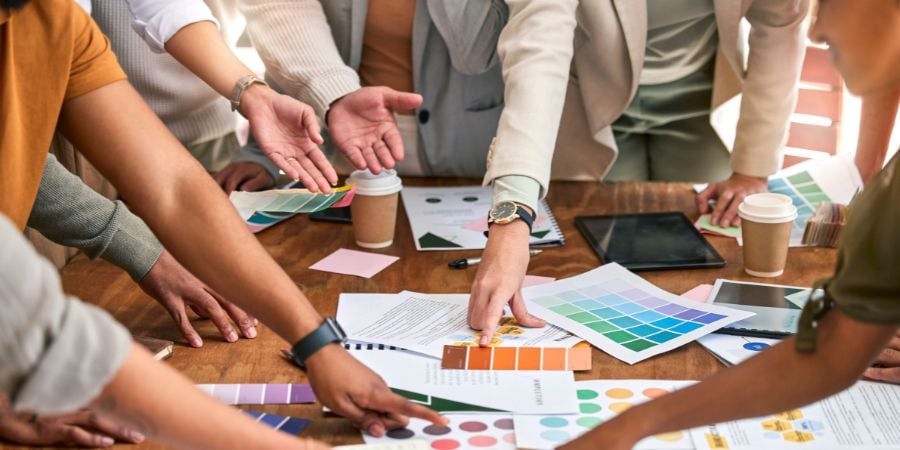 Modern Branding: More Than Your Catchy Slogans
Today, however, branding still shares many fundamentals — a good logo, a solid brand message, and catchy slogans but those brands that stand out have started a movement. Brands now invest in digital storytelling methods across paid ads, social media, and traditional media to connect with their audience's emotions. Instead of laying out the features of their product, brands want to connect to the dreams of their audience. With the rise of the hero framework and other methods, such as StoryBrand by Donald Miller, marketing businesses want to make their customer the hero and take the backseat as more of a guide or sidekick in their journey. A recent study highlighted that 70% of businesses today are investing in content marketing to get their stories and messaging across.
Customers May Not Believe in Second Chances
Today, brand authenticity is the primary catalyst for building trust among customers. One mishap when it comes to marketing can easily lessen consumer trust. This is why transparency and engagement are necessary to keep customers interested in your products.
Customers want to see the full behind-the-scenes of your processes, values, and intentions. Consistent customer loyalty is built upon a trustworthy foundation. For example, if you have a sustainable manufacturing business that uses eco-friendly materials, that's a positive start. But if your employees are getting paid below market wage and customers catch a whiff of exploitation, this can lead to a rippling wave of reputation damage across social media.
Attract New Customers and Keep Them Loyal
Customers who develop an emotional connection with a brand are more likely to pay even higher product prices. Not only this, but they will become the brand's most prominent advocates.
In addition to building a loyal customer base, the proper branding will keep attracting new customers. Even when faced with multiple competing options, new customers will choose your brand because of how it makes them feel. Whether through a social media campaign or even an ad, they see walking on television.
Your Go-to Branding Checklist
Branding is not only about aesthetically pleasing visuals that advertise a product but also about creating a sense of familiarity with customers. Here's how manufacturing brands can bridge the gap between building a loyal base.
Authenticity:

Be true to your core values and communicate them with your audience consistently

Differentiation:

Highlight what makes your products unique and why customers should choose from

Consistent Communication:

Maintain a clear and unified brand message across all platforms

Innovation:

Embrace new technologies and techniques that align with your brand's evolution
Assess Your Brand's Identity
It's not too late to transform your brand if you have an existing manufacturing business. You can start by evaluating your current branding strategies, such as whether your brand identity, including visuals and messaging, reflects your values, goals, and unique selling points. Is your ideal target audience engaging with what your existing brand currently is? Depending on the quality of these answers, you can create a plan to change your brand or keep it the same.
Branding in manufacturing has shifted in multiple directions since its origins in the Industrial Revolution. From evolving past logos to encompassing long-term identity, trust, and loyalty, branding has become a competitive art between businesses. Those who excel at branding will continue attracting new customers and retaining their existing client base.
Are you ready to take your manufacturing brand to the next level? Our branding assessment will help you uncover business growth strategies, differentiation, and customer engagement opportunities. Let's help you create a brand that resonates with your dream audience's emotions.