To grow and scale, your business may need to overhaul and Streamline your revenue operations.
Companies scale and systems snowball. Employees buy their favorite SaaS apps. Managers maintain their own spreadsheets. Teams build their own process. Disconnection ensues. Mistrust and miscommunication flares. Departments become siloed and solitary. Efficiency breaks down. Customers begin to notice. Sloppy systems and overly complex processes lead to unsubscribes, lost deals, and cancellations. Departments desperately try to connect the dots and architect a better system.
Does any of this sound familiar to you? If so, we get it. Many companies experience this. You're not alone. To get past these pain points and position your business for growth and scalability, you may need to reimagine your RevOps.
It Starts with RevOps
The term RevOps is a mashup of "revenue" and "operations." Some describe it as a philosophy, others think it's a tool or platform, few see it as a department, but really, it's better described as a framework. The job of this framework is to unify marketing, sales, and customer success by giving them shared expectations, data, and tools. The idea is for all of them to be working in sync with the same big picture view of the entire sales funnel to achieve a common goal — increase revenue.

So, how can you create a RevOps framework? We suggest starting with an aligned mindset and the right tool. In this case, HubSpot Operations Hub.
Introducing Operations Hub — A RevOps Game Changer
On average, operations teams spend 80% of their time putting out data and process fires and only 20% driving business strategy and improving the customer experience. They have the knowledge and desire to be a lynchpin for your business, but they end up spending more time fighting growing pains than propelling growth. It's time to flip that script, to unleash ops to live up to their strategic potential.

What is Operations Hub? The answer.
For operations teams that want to spend less time fire fighting and more time driving strategic business value, Operations Hub supercharges HubSpot CRM with a suite of tools that makes it easy to connect, clean, and automate your customer data. Unlike siloed data tools, Operations Hub combines an ops team's full toolkit into a CRM platform, uniting all customer data on one connected platform. The result: a more efficient, aligned, and agile business, an unhindered and strategic ops team, and friction-free customer experience.
With Operations Hub, you have:
A truly connected CRM. Keep customer data in sync across all business apps, two ways, and in real-time — no third-party integration tools required. Save hours of manual data entry for your ops teams, and empower and align your teams with dependable, consistent, and up-to-date data.
A database that cleans itself. Your customer experience is only as clean as the data that powers it. With OperationsHub, ensuring data quality isn't just easy; it's automatic. Declutter date properties, clean up country codes, polish up phone number fields, and more — faster than you can say "export and import."
Automation that's as flexible as your imagination. As online touchpoints multiply, automation keeps your team efficient and your customer experience consistent. With Operations Hub, set custom automation to remove friction from your entire business process, adapt to ever-changing customer needs, and ensure your company runs smoothly as it scales.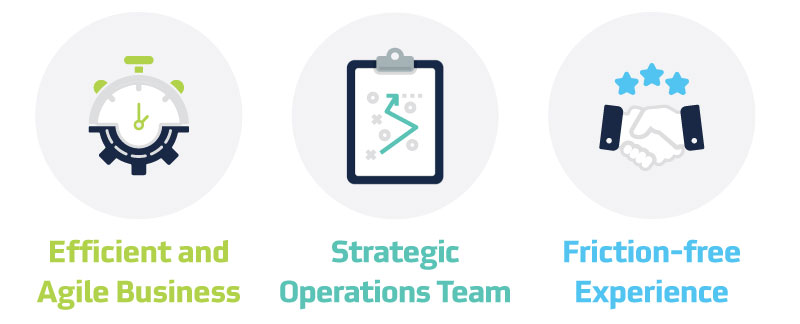 How Operations Hub Can Work for You
Operations Hub unites marketing, sales, and service by connecting tools, cleaning customer data, and automating business processes. Here are a few use-case scenarios that could change the way your business works, removing friction and clearing the way for growth and scalability.
Establish a source of truth then integrate everything.
Sync your CRM with your ERP to ensure that customer data stays up to date between front-office teams (marketing, sales, and service) and back-office (finance and billing).
Integrate your CRM and marketing apps whether HubSpot's your CRM or not. Sync CRM fields to marketing to personalize campaigns and analyze revenue impact. Sync marketing data to CRM to score and rotate leads and inform sales conversations.
Sync your reps' phones with your CRM, ensuring up-to-date information on the fly.
Keep your CRM and reps apps aligned. Assign leads to your agents as soon as they come in.
Migrate to HubSpot with ease.
Use HubSpot Sync to migrate all your contact and company data into HubSpot, including historical data.
Clean up dirty data.
As your company scales, it's hard to keep your data clean — and dirty data leads to inefficiency and poor experiences. With the new data quality actions in workflows, you can clean your data with less time-consuming Excel work.
Create custom automation for more complex business processes.
Rotate leads with custom logic and third-party queries. For instance, when a new lead comes in, query another system to determine sales rep capacity and route the lead in HubSpot based on that information.
Create deadlines for response time based on the dates tickets were opened. (e.g., Has the ticket been open for x amount of time? Has it met x threshold? If so, perform x action.)
Manage renewals. When a deal closes, create a new one in the future (e.g., one year from now) and manipulate it (e.g., remove the discount from price, etc.).
Create complex calculated properties. Manipulate and transform your property value in any way you choose. For example, create a lead score using data from HubSpot and inputs from a dozen other systems, and use a custom action to populate the value in HubSpot.
Position Your Company To Scale — Learn More About Operations Hub
If Operations Hub sounds like something your company needs to push through the pain points you're experiencing, and you'd like to learn more, set up a free Operations Hub consultation with our team.

As a leading B2B marketing agency, Platinum-tier HubSpot Partner, and Operations Hub solutions provider, it's our mission to help businesses improve marketing, sales, customer service, and operations efforts to gain traction, grow, and scale.

Together we can create a winning RevOp strategy and set your teams up for success with Operations Hub implementation. What are you waiting for? Schedule your free, no-obligation consultation today. There's nothing to lose but everything to gain.
More reading: