As your business grows, you often find openings to deliver new products to your consumers. You enhance your connection with them by addressing more of the issues customers face, particularly those within your expertise. This, in turn, strengthens the customer relationship, building trust and loyalty over time.
But what happens when new products that fall outside the traditional product offering are introduced? Meeting new customer needs or expanding into new markets without alienating current customers can seriously challenge growing businesses.
At TANK New Media, we worked with a shed manufacturer that was faced with building new solutions for customers who needed more than the basic storage offerings. Read on to learn how we helped leverage its customer base's knowledge to craft a new product launch and integrate these expanded offerings into new brand frameworks.
Outlining Growth Avenues: Market Penetration to a New Product Launch
For businesses facing the challenges associated with growth, strategies like the Ansoff matrix come into play. This matrix offers a roadmap for businesses looking to expand. One powerful direction within this strategic planning tool is launching a new product. It means improving existing products or creating new ones that fit customers' changing needs. This approach builds strong connections and loyalty.
The Ansoff matrix has four directions: market penetration, market development, product development, and diversification. They used insights from their customers to create new products that solved their problems.
Product development includes improving your existing products and creating and marketing new products. With new and improved products, you lock in your current audience in ways that make them more loyal to your brand. The key to successful product development is understanding your audience's pain points and how you can address them with a new or modified product. When you take your insights and brainstorm avenues, your company can take to meet those needs with your products or services.
Spotting Opportunities: Pursuit of Quality Solutions
When launching a new product, some opportunities can help drive success, some that will be apparent, and some that you may need help finding. When the shed manufacturer came to us wanting to launch a new product, they were unsure how it would fit into the current brand that they had established.
The shed manufacturer had already identified a unique opportunity among its customer base. Beyond storage solutions, clients were seeking structures for housing animals like chickens and dogs. The challenge was clear: designing durable buildings that withstand conditions while maintaining an appealing appearance.
Meeting this challenge head-on, a shed manufacturer faced a crucial question: Could their well-established brand value in storage buildings extend to other structures? With the right strategy in place and their customer needs as a priority, this business did just that.
Laying the Groundwork: Building Brand Frameworks
To expand its offerings seamlessly, the shed manufacturer needed to establish a system extending from sheds and garages to coops and kennels. This endeavor involved defining specific personas for coops and working dogs — essential segments for their new venture.
The Product Frameworks we helped create for this business became pivotal in their new product launch. These frameworks outlined the problems each product solved, emphasizing unique features and value propositions that resonated with specific audiences. By incorporating key differentiators, the brand aligned each product with the exact challenges it addressed, offering tailored solutions.
Strengthening Brand Identity: Colors, Names, and Messaging
The business adopted a comprehensive approach to brand architecture. A clear naming structure was also established for each collection, further streamlining customers' decision-making processes. Complementing this, BrandScripts were created for each target audience and each product line, ensuring hyper-relevant brand messaging. BrandScripts distills Donald Miller's first venture into business writing, Building a StoryBrand. Next, the shed building business introduced distinct colors for each primary product line, enhancing visual recognition. This step was vital in separating their offerings and simplifying customers' identification of their desired products.
The final result: Cohesive branding that allowed a shed manufacturer to introduce new products and enter new markets while ensuring their core offerings are still presented.
Old Collections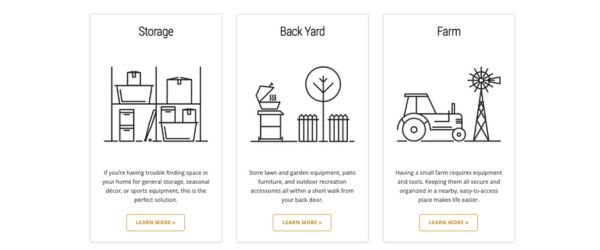 This brand was outdated and made finding their products difficult, and you had to search around the website for all the different things they offered.
New Collections
As you can see, all products are in one place with the shed manufacturer's new collection line. This makes it easy to find the line that you want, and it takes you to all of the products that are in that collection.
Seamless Communication: From Leads to Product Pages
The groundwork for effective product promotion and heightened brand awareness was completed with product pages, allowing the brand to hit the ground running. The shed building company initiated this process by establishing dedicated spaces for collateral, acting as landing points for potential customers seeking more details on the new products.
The business's website was transformed, incorporating the newly defined product line colors. This evolution ensured a smooth transition as customers explored the new offerings. Brochures, catalog updates, and engaging product announcement emails and social media posts rounded out the strategy, making information accessible and enticing.
Leverage Impactful Growth Strategies for Your Brand
When trying to carve out space in new markets or expand product offerings, having an effective growth strategy makes the difference. This shed manufacturer faced the challenge of expanding its storage solutions to fit customer needs while utilizing existing brand assets.
Curious about leveraging such strategies for your brand's journey? Contact Krista, our dedicated client services expert at TANK New Media. With a deep understanding of business expansion and product development, Krista can guide your business toward success, whether you aim to refine existing offerings or embark on a new product launch that can shape your path forward.