An award-winning manufacturer needed a website that put them on display to attract new leads.
Bennett Packaging (Bennett), headquartered in an underground industrial facility in Lee's Summit, Missouri, is one of the largest independently-owned retail display and custom packaging companies in the country. Their philosophy is to create a competitive advantage by coupling their high service commitment with the best equipment and operators in the industry. They have invested millions of dollars in expanding their capabilities, which enables them to manufacture the best products at maximum efficiencies.
Bennett asked TANK New Media (TANK) to redesign their website using modern technology, responsive layouts, and graphics that reflected their high-tech capabilities and high-quality standards. This required restructuring the site content to ensure ease-of-use across multiple devices and audiences. It was also important to Bennett that web leads could be captured and saved in a customer relationship management (CRM) system to assist their sales team with prospect follow-up.
A user-friendly website that attracts and engages potential customers
With a focus on improving the user experience, the website was redesigned using Craft CMS as the content management system and integrated with HubSpot Marketing and HubSpot CRM. The new site's content strategy called for more detailed product and service pages that effectively educated clients on what Bennett does and what differentiates them from others in the industry. Additionally, TANK had to align the new website with Bennett's new logo. The website needed to incorporate the logo seamlessly into its design and color pallet. The overall goal was to create a user-friendly site that accurately represented the Bennett brand and mission while compelling visitors to learn more.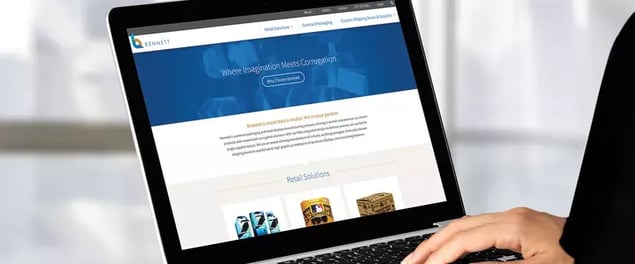 A custom website tailored to clients' custom needs
While Bennett offers standard retail solutions, they're passionate about providing custom and tailored display and packaging solutions. They're best at customizing and catering to their clients' creative visions. Knowing that cookie-cutter website design wasn't going to cut it, TANK built a site as unique as Bennett's custom packaging.
The new website showed off Bennett's industry-leading expertise and cutting edge capabilities, offered a broad view of their services, and featured an impressive gallery of product images. Each web page was written to provide a clear picture of the services available and to nurture leads through the buyer's journey. Calls-to-action and contact forms were added to the site to nudge interested visitors in the right direction and capture their information. The sitewide call-to-action, "Let's Talk Corrugate," made it easy for visitors to connect with the Bennett team.
An out-of-the-box website that used design and content creatively
Bennett's updated website design, intuitive site architecture, compelling content, and integrated CRM helped increase website traffic, capture better-qualified leads, and improve close rates, ultimately leading to a healthier pipeline for the sales team.