Expanding marketing efforts to include trade shows boosted brand recognition and increased sales.
In 2015, Dakota Storage Buildings (Dakota) partnered with Invoq Marketing to implement HubSpot's marketing platform so that Dakota's inbound marketing and sales efforts could align for maximum impact. During 2018 TANK New Media (TANK) acquired Invoq Marketing and continued a partnership with Dakota to drive marketing and sales growth. In 2019, TANK helped Dakota refresh their logo, expand their brand, and update their website.
While Dakota is the premier storage building manufacturer in South Dakota and Minnesota, the best at designing and manufacturing high-quality buildings, and known for providing superior customer service — updates to their brand and website helped them better align with their reputation and business goals.
With vital branding pieces in place, Dakota looked to increase their brand recognition and product visibility in their Minnesota markets, specifically the metropolitan area of Minneapolis and its surrounding areas. Dakota decided to expand their marketing efforts to include the trade show circuit. Although the sales team had attended home shows in the past, this would be the first time Dakota sought to be a trade show exhibitor. Dakota tapped the TANK team to help them with the strategy and marketing materials they needed to make their financial investment successful at the 2020 Home + Garden Show in Minneapolis.
Shed Setup & Booth Layout
Dakota secured a premier booth location, placing them on a high-traffic corner along a central aisle. This medium-sized location was the perfect foundation on which to build the trade show strategy. TANK worked with Dakota to create a booth layout that would include a small shed, creative assets, and scannable, branded collateral.
The onsite shed showcased many features for show attendees to explore. Having a Modern Backyard Shed present with a built-in workbench and loft, allowed visitors to visualize how they might benefit from a Dakota storage building. The shed was staged in a way that made it easy for customers to envision how it could look if it were set up in their own backyard.
Dakota also built custom tables and cabinets to use in their booth to showcase product catalogs, price lists, and marketing one-sheets. These structures were cleverly constructed with siding and shingles used for their sheds and garages. Not only did they give visitors another opportunity to see Dakota's high-quality materials up close, but it provided color and siding samples for trade show attendees to see and touch. Dakota also presented a slideshow on a big screen to show product information and service offerings.
Marketing Campaigns & Branded Collateral
Although the physical presence of Dakota at the 2020 Home + Garden show would help expand their reach, TANK wanted to make sure there were plenty of opportunities to continue to increase their visibility and keep Dakota top of mind before and after the show.
TANK created a campaign that began before the show started, ran during the course of the show, and lasted for a few weeks afterward. The goal was to drive attention to Dakota. The campaign included a shed giveaway contest that invited visitors to enter to win the shed on display at the show. Those who weren't lucky enough to be selected as the winner didn't go away empty-handed — they received a 5% off any Dakota stock shed. The giveaway contest resulted in over 200 entries.
The campaign worked as planned. Engagement started before the show, ramped up during the show, and continued afterward. During the campaign, over 85 buildings were created and saved using Dakota's online shed configurator, making it clear that people were excited to customize their own Dakota building.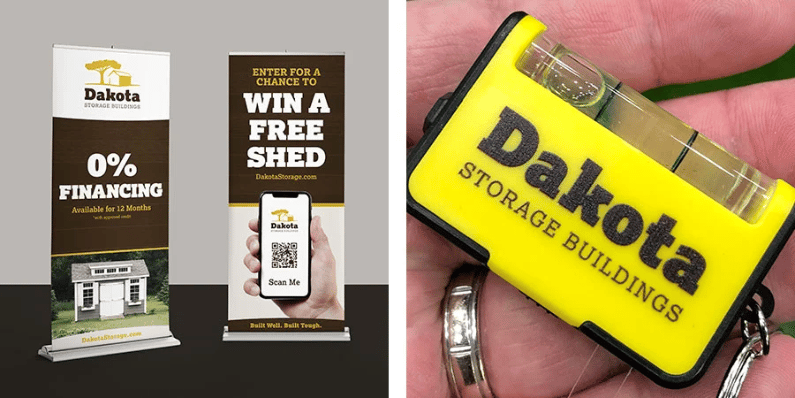 TANK worked with Dakota to create printed collateral that promoted the giveaway, 5% off, and product information. These printed pieces included branded product catalogs, retractable banners, flyers, and vinyl signage. They also handed out keychain levels as freebees to booth visitors — the creative and useful trinket made a memorable impression.

*Five months after the Home + Garden Show, Dakota has already seen 4x the return on investment.
**Dakota was able to increase their awareness within their markets, of the 200+ entries 84% were new contacts, and gained 302% new customers in Minnesota (Jan.-May 2019 vs Jan.-May 2020).
As a part of TANK's strategic growth programs, each piece of the trade show marketing campaign, including Facebook advertising, emails, trackable URLs, helped Dakota boost awareness, earn more customers, increase sales, and increased product visibility in their Minnesota markets.