Video is the best performing content on social media platforms and helps promote brand awareness. Discover how you can use this resource in your social media marketing plan.
Video may seem like a scary medium to use if you're not familiar with it, but the beauty of this resource is that you can use it however you want to support your brand. Statistics show that video marketing isn't going away anytime soon and is continually getting more popular. According to Oberlo's study, 85% of all internet users watch online video content monthly on their mobile devices.
Dakota Storage Buildings is a manufacturing company that builds high-quality, custom storage solutions from start to finish. With so many custom options, they needed an effective and quick way to showcase the possibilities to their consumers.
Their Facebook and Instagram accounts were performing well, so they decided to showcase some of their key features using short videos. Together, the Dakota Storage Buildings staff and our design team filmed, produced, and posted one video per week highlighting a new custom feature. The video garnished many views and more engagement than other posts. You can check out their Facebook page here.
Video Can Be Customized to Your Marketing Strategy
The beauty of video is that is doesn't have to be extremely complex for social media. Dakota Storage Buildings is a perfect example of creating videos that work for them. All they needed was short videos shot on-site with their iPhones to get their features out there for people to see. They didn't need a studio with strategically set lighting; their viewers just needed to see their sheds in the environment and hear the benefits.
Video is a great way to connect with viewers on a relatable level, and it puts a face to the brand. Featuring content that is valuable to consumers and provides helpful insights to your company and products creates a bond that's beyond words on a website page.
Creating a simple video blog could be the most successful path for your business or maybe producing high-quality movie-style stories/interviews is more in line with your brand. There is no right answer when it comes to what type of video that works best for social media, but you can check out some of the most popular styles here.
Not sure what type of video will work best for you? That's ok. The key is to get out there and test it. Start small and remember your goal is to create a relationship with your viewers. It can be helpful to try a few methods and analyze what your audience best responds to. If you need a little help figuring out what content to start with, check out this article with ten video content ideas.
Use Video in Social Media Marketing to Showcase and Promote
By utilizing video, you can provide viewers with inside knowledge of your company's products or services and cultivate interest. According to Wyzowl, 72% of consumers would rather watch a video to learn about a product or service than simply read about it. Providing viewers with interesting visuals will ensure the information you are trying to get across is grabbing their attention.
Promoting your brand through video on social media platforms is a great way to be relevant and approachable while piquing interest and nurturing potential customers further through the buyer's journey, which will ultimately help drive up sales. Companies using video on their social media get 66% more qualified leads per year.
Dakota Storage Buildings's weekly videos help highlight a different feature or product, allowing their audience to learn more about their products on a consistent basis. These videos are gaining traction and earning more followers. Video is an easier platform to explain complex concepts or descriptions than expecting consumers to read large chunks of text.
One of the most recent videos posted to Facebook for Dakota Storage Buildings focused on the flooring structure of their sheds. Of their 580 people reached organically, 128 viewers watched longer than ten seconds, and the post itself had 47 clicks. That means that 128 people are now more educated on how the brand's custom-built flooring structure works, and 47 viewers were interested in learning more. These videos are gain more engagement for the brand, and the stats continually go up over time. Within the first 24 hours of the post, 128 minutes had been viewed, and almost 30 minutes within the next 24 hour period.
Social Media Posts Containing Video Perform Better
Using analytics built into a social platform, you can see approximately how well a video is performing and use those stats to hone in on your success. Facebook allows users to view insights on things like the estimated reach, post engagement, and the top audience.
Looking at the post insights for Dakota Storage Buildings's flooring structure video, you can see specific stats and engagement stats. The top audience and top location are great ways to analyze if your posts are hitting your target audience. Using this information, videos can be better steered towards the goal and directly ensure you are getting there efficiently.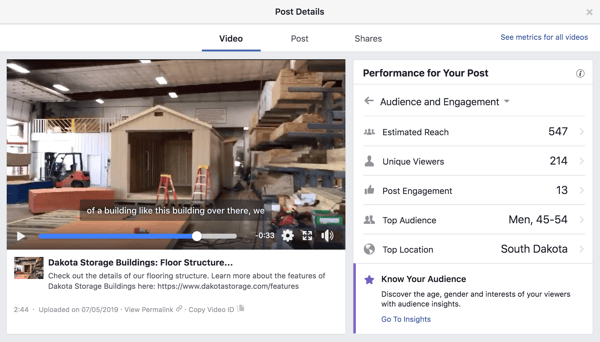 Promoting your product is great, but that doesn't directly correlate to more sales, right? Well actually, video is not just useful in gaining social media traffic, 9 in 10 marketers have landed a new customer through their use of video. Appealing to human nature with interesting content allows consumers to feel more understood and appreciated, and therefore, more likely to become customers.
Using video also ensures viewers will retain information. As humans, we are visual creatures that thrive off of cohesive sequences that form a story. Finishing off a video with a next step or call-to-action gets consumers to be apart of the story and create a sense of closure. Studies show that viewers are 95% more likely to remember a call-to-action after watching a video, compared to 10% when reading it in text format.
Creating video can get a little daunting and overall very time consuming, so here are a couple of quick tips to help you get the best engagement and return on your investment.
Use the first few seconds to grab attention quickly. Studies show that the average attention span is now eight seconds, so it's important to capitalize on the first seconds of your video.


When shooting videos for your social media story, make sure these videos are shot vertically. Vertical videos fit better on mobile screens, where most of this content will be seen.


If you are shooting your videos ahead of time — which is recommended unless you are live-streaming — avoid using dated statements such as "good morning" or "happy Tuesday." These statements limit when you can post your videos and confuse people when they watch at a later time or date.


Create a plan for your video in advance. Viewers are looking for a put-together story and you don't want to forget any important details.


Be aware of linguistics! Avoid the use of "um" and "uh" as much as possible.


Don't forget about a call-to-action. The goal is to drive viewers to take the next step so do not forget to give viewers an action they can take to get involved.
Video is a Continually Growing Medium
There is a reason why more than 1 billion hours of video are watched on YouTube every day. The human brain is hard-wired to shift focus to things that are new in the environment, like motion, which means that video is a great way to use nature to gain engagement. Video isn't going away anytime soon, so it's important to start thinking about how you can utilize video for your brand.
Using video in your social media marketing plan will drive results and keep your company relevant. Studies show that by 2020, 80% of all internet traffic will come from video, so start using it now if you're not already. Bottom line, video is always expanding, and viewers are coming to expect information to be in more consumable ways.
Getting Started with a Social Media Marketing Plan
Consumers expect to get information quickly and easily, and they crave a relationship before committing to a purchase — that's why video is so great; it satisfies both needs. You can look at Dakota Storage Buildings's videos to see their features videos and check out how these videos are working for them.
Do you need help with your social media marketing strategy and execution? Do you want to explore all the ways that video can work for you? If so, check out this short video about our Digital Marketing solutions, or download our Magnetic Marketing for Manufacturers Guide.