Do your leads sit in the pipeline and turn stale, and you are unsure how to re-engage them or don't know where to start? Perhaps they were interested, but something happened. Did they buy from someone else? Did they stop engaging because they were unsure of the next steps? Whatever it was, now they may need an extra push to keep moving through the customer journey. Your sales team may need to focus on the new, incoming leads, so how do you ensure you're not missing out on potential buyers? How do you help move people through the pipeline and encourage a purchase?
We often do what we call sales pipeline nurturing. This is a sales enablement process in which we look at opportunities in one or more stages and devise a communication plan to re-engage customers who have gone quiet or need additional incentives to move forward. We look at several components when developing the sales enablement strategy for these initiatives. This blog post will cover sales enablement basics, audience fine-tuning, communication methods, frequency, messaging, which parts you can automate, and a real-life case study from one of our clients.
Leverage a Sales Enablement Strategy That Helps Turn Prospects Into Customers
A sales enablement strategy is more or less what it sounds like; it is the method your business uses to give the sales team something to work with, i.e., to make sales. This plan is designed to help your sales staff reach the right people at the right time and increase sales.
To increase the number of leads and audience members who become customers, you should evaluate the resources, tools, material, and information you give sales. Your sales team needs to know the products inside and out, but they also need to understand how to maximize your CRM, which can simplify your sales process and improve the efficiency of your pipelines.
Getting Leads the Right Information at the Right Time
Establish a Communication Plan For Different Deal Stages
Who is getting the communication, how long have they been in the pipeline, and at what stage? The most effective pipeline emails do more than send to all unclosed deals. They pick a specific stage and/or product sold to key the message to the audience.
How Will You Get In Touch?
What's the best way to communicate with your stale leads? It depends on where they're on the journey and what you're trying to engage them with. Often, we find email to be effective in this instance. Email is one of the most effective forms of communication for marketing and sales — according to Litmus' "The ROI of Email Marketing," email marketing has a return on investment of $36 for every dollar spent.
Other forms of communication, like blogs, exist to engage your leads with relevant content that can help you push them farther down the sales pipeline with different stages of posts. This gives the lead more insight into your business and helps them make a more informed decision.
When Will You Reach Out?
How often are you going to communicate with them? Remember what your sales cycle is. Sometimes a few emails in a short time are better, while in other cases, spreading out the communications can keep your business and products at the top of their mind in a longer cycle. One of the steps to improving your brand communication is to ensure they don't forget about you and your brand. You want customers and prospective customers to have an instant point of connection and recognition with your brand. By doing this, your consumers will understand that you are there for them and can be a great partner.
What Do You Want to Convey?
What message do you have to help them make a decision? Can you answer FAQs that may slow customers down, provide a special offer, or just a reminder? What if you linked to buyer enablement features that let your stale leads experience your offerings for a trial period? This part is pretty key. The message must be compelling enough to get them off the bench and back into the game. We often use Donald Miller's StoryBrand Framework to help establish a strong message.
Which Pieces Can You Automate?
Automation offers an efficient way to nurture leads and move them through your sales pipeline, leading to improved closing rates. Many things can be automated in your pipeline, the easiest being emails. You can send follow-up reminders and client requests informational emails in every pipeline stage. The impact of automation can be instantaneous. You will see that your sales team will have more time to spend with custom quotes or even one-on-one engagement that can be crucial to a sale. They can repurpose their time towards more impactful activities, and your sales team can foster stronger relationships with customers.
Dakota Storage Buildings
Lead Nurturing Automation in Action
Here is a specific example of one of our clients. Dakota Storage Buildings sells sheds, garages, coops, and kennels. They have a fantastic buyer enablement tool, a 3D configurator where users can design a custom building, get a quote, save it, and make a purchase right there. For users that save a building but don't move forward, we have a workflow that communicates with them to answer questions they may have before they buy.
The series of 5 emails sent over ten days have a 40-60% open rate with click-through rates as high as 50%. Even though they haven't moved forward, the prospects are highly engaged and are still very interested in purchasing. These have proven to help the sales team connect with opportunities and help answer questions even when prospects have entered the sales cycle.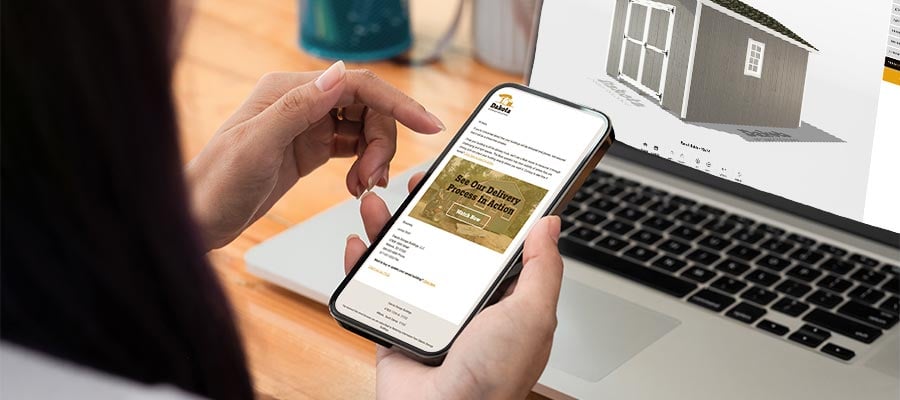 Emails can also be used in one-off instances to rejuvenate folks that have gone quiet. For example, maybe you have a group of people who have shown interest but have not quoted. A series of emails can go out to them to inquire about questions they still have and reasons to do business with you over the competition. These need a clear call to action where the prospect can connect with their salesperson if they decide to move forward.
Pipeline emails can also be used to trigger events after purchase. For example, the same workflow can be created if someone closes a deal and needs service or gets more consumable products to go with their purchase. HEPACART® is a producer of dust containment, air filtration, and surface disinfection solutions to keep people safe in high-risk environments and uses these in a larger process to help trigger reminder emails to purchase filters. Once the deal closes and the equipment is received, users go in a queue to be reminded when to get new filters to keep their machines running in top condition.
Re-engage Your Pipeline to Win More Deals
Don't give up on old leads just yet. Re-engaging leads with a persuasive message that assists them in making a decision and moving the needle may be accomplished via sales enablement approaches such as pipeline nurturing emails. Book a meeting with us, and we will discuss your challenges, your sales enablement plan, and how you may enhance your close rates. Let's talk automation today and see how we can help automate leads and stay ahead of the competition.