HubSpot CMS Starter has more features and is easier to update than WordPress.
Back in August, the HubSpot team announced the addition of HubSpot CMS Starter, and we've been super excited ever since. With the addition of Starter to the HubSpot CMS product lineup, they now offer an economical content management system (CMS) for B2B businesses and manufacturers looking to improve their online presence while keeping the cost relatively low.
HubSpot's pricing page has up-to-date pricing and details, but at its launch, HubSpot CMS Starter was just $25 per month, which makes it a pretty affordable opportunity to get your website started using HubSpot. Even companies who already have a website can benefit from it. It's a good software option for business leaders looking to grow and scale through HubSpot, inbound marketing, CRM-driven website, and content personalization.
One of the biggest reasons we're excited about the addition of HubSpot CMS Starter is its ability to stand up against inexpensive website builder software options, like WordPress, which businesses have traditionally felt inclined to use.
In this article, we'll cover why HubSpot CMS Starter could be a great option for your B2B or manufacturing website and the ways it's better than WordPress.


Why should I consider HubSpot CMS over WordPress?
Often, B2B and manufacturing businesses who want a website think they need to start on WordPress. Or if they're redesigning or updating their website, we often find they've got WordPress as their website builder software. And honestly, we're not saying there's anything wrong with that. Until recently, we've understood and agreed that WordPress was one of the better software options for small to midsize businesses (SMB) looking to expand and improve their online reach.
WordPress is a popular choice for a CMS, and it's inexpensive. That's not necessarily a bad thing — this can be one of the deciding factors in choosing a website builder software. That being said, when selecting WordPress, we often find there are some limitations.
Here are a few challenges we face when helping clients build WordPress websites.


1. WordPress isn't Intuitive or Easy to Use
WordPress is open-source, which means there are thousands of independent developers working on it. While that brings a lot of innovation and creativity to the software, sometimes there can be too many cooks in the kitchen. Numerous updates could break something, and consistency is not guaranteed, making the platform messy at times.


2. Much of WordPress Website Functionality is Built with Third-Party Plugins
Some of the third-party plugins on the market are truly remarkable. They're often the best ways to get clients what they need from a WordPress website. But, the problem is that multiple plugins are usually required to build specific functionality. This can result in numerous software and extensions that you need to keep up-to-date and working together.


3. WordPress isn't Built with an Inbound Marketing Focus
When the website builder software, WordPress, was introduced, inbound marketing wasn't even around yet. So, it makes sense that it wasn't built to handle more modern marketing methodologies. And while it has seen improvements and evolved as a CMS platform over the years, it's never fully caught up to the robust ability to drive inbound marketing like the HubSpot CMS and HubSpot CMS Starter.
To be very clear, we're not just picking on WordPress here. Many open-source and website providers have these similar issues. Website builder software like Squarespace or Wix is great to get your website up and running, but they are not sustainable for growing businesses. Check out our HubSpot CMS vs. WordPress Comparison Guide for more comparisons between the two.


What is HubSpot CMS Starter and what are its benefits?
What, Who & Why
What is it? HubSpot CMS Starter is a simple content management system for growing businesses who want to leverage the HubSpot CRM platform to generate business through their website.
Who is it for? SMB with 1-10 employees
How much is it? Starting at $25/month (check HubSpot for current pricing)


Benefits & Key Features
Gives You a Fast, Secure, and Reliable Website
In the past, traditional content management systems left you open to security, speed, and reliability vulnerabilities. Because they often require one or multiple plugins to make them work, you have a constant headache of managing all the plugins and integrations and often end up costing you more than you were trying to save in the first place.
But HubSpot CMS Starter removes that headache. CMS Starter takes care of the site maintenance with built-in security features. This means the focus can be on making your website a revenue-generating machine instead of wasting time focusing on updating plugins. You want your website builder software to help you reach your business goals, not stand in your way.
Key features:
SaaS CMS
Standard security features like SSL
Web application firewall
Globally hosted CDN with 99.9% uptime
24/7 monitoring and threat detection
Allows You to Easily Build a High-Quality, Remarkable Website
One challenge that we've experienced over the years is finding a CMS that's easy to use and provides high-quality designed websites that are powerful enough to drive business results. We know it's important to grow your business, so you need a CMS that developers and marketers love to use.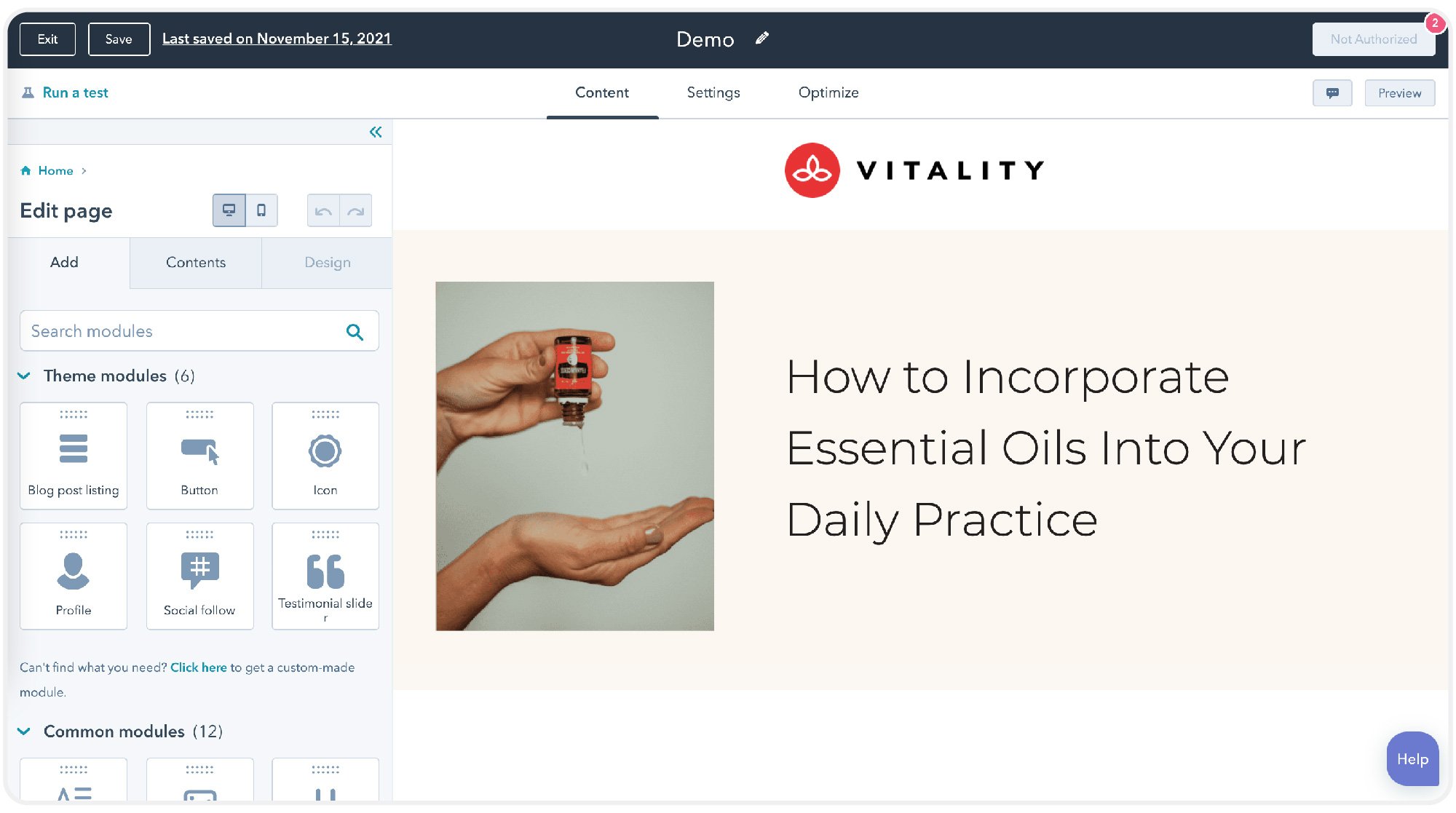 HubSpot's CMS Starter gives developers the flexibility to use the tools and technology they prefer to create adaptable themes for marketing teams to leverage. This allows marketers and developers to work together, which has traditionally been a challenge for teams in the past. Marketers and designers can create a look and feel for the website that aligns with their strategies and goals without waiting around for a developer to ensure structure and functionality.
Key features:
Themes
Drag and drop page editing
Landing pages — Free version found in HubSpot's free tools
Blogs - Only one blog, but unlimited blog posts
Website pages — Limit of 15 pages on HubSpot CMS Starter
Multi-language content management — Language variants of pages count towards your 15-page limit
Advanced menus
Blog import
Site export
Developer documentation & community
Marketplace
Provides the Ability to Integrate an All-In-One CRM Platform
One of the biggest challenges and opportunities B2B and manufacturing businesses have is "un-siloing" their tech stacks. As companies start to grow, they often experience the pain of different systems and software not being able to "talk" to one another. This creates headaches when syncing data and information, ultimately leading to serious website and digital marketing limitations.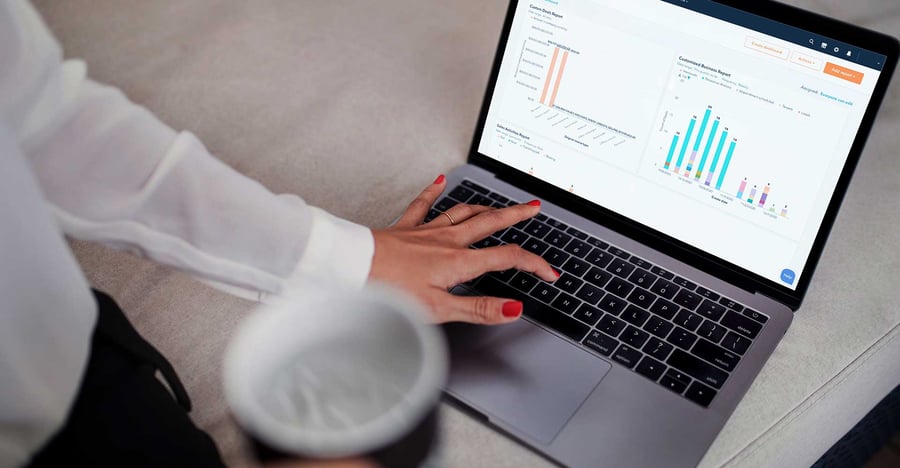 But, HubSpot CMS Starter has been built to help growing businesses break down these barriers. CMS Hub Starter is built as part of HubSpot's CRM platform to allow you to leverage customer data within your website strategy and report on exactly what pieces of content are resonating with your audience. (Read more about why CRM software is extremely beneficial to B2B and manufacturing teams here.)
Key features:
Full CRM
Conversations
Ads
Email marketing — Upgrade required to remove HubSpot branding
Forms — Limited to 10 custom form fields
Video hosting
Unlimited CRM users
Chat & email support
Web analytics reporting
Is HubSpot CMS Starter the Right Fit for You?
We've briefly covered some benefits, key features, and reasons why the new HubSpot CMS Starter is a great website builder software for growing businesses on a tight budget. HubSpot is built with growth in mind which means this Starter program will allow you to continue to scale into other systems and tools as your business grows, making it a sustainable solution for your efforts.

Get in touch with our team for a free consultation and discuss how your business could benefit from HubSpot CMS Starter. Also, compare and contrast the value and key differences between HubSpot CMS and WordPress with our guide.