Marketing campaigns are focused efforts that guide your target audience towards a desired action.
If you believe that creating valuable content and tailored experiences is what effectively attracts potential customers, then inbound marketing is the right methodology for your marketing strategy.
Using the inbound methodology, you can build marketing campaigns that will guide your target audience toward a desired action like downloading an ebook, signing up for a free trial, or scheduling a consultation, which will ultimately convert them into leads who have a great potential of becoming customers.
Maybe you understand the concept of inbound marketing, but feel unsure about what elements are necessary to create a successful, lead-generating inbound marketing campaign.
That's ok. We've all been there.
This post outlines all of the key pieces needed for an effective inbound marketing campaign and provides step by step directions on how to create them.
What is inbound marketing?
Before jumping in, let's recap come inbound marketing basics like what it is and why it's effective.
Inbound marketing, the opposite of disruptive outbound marketing, is a methodology that attracts customers to a brand or company by creating valuable content and tailored experiences. It's a way of providing relevant and helpful information and opportunities to a specific audience who is searching for answers and solutions online. This content can include valuable website pages, user-friendly blog posts, relevant social media posts, downloadable ebooks, and more.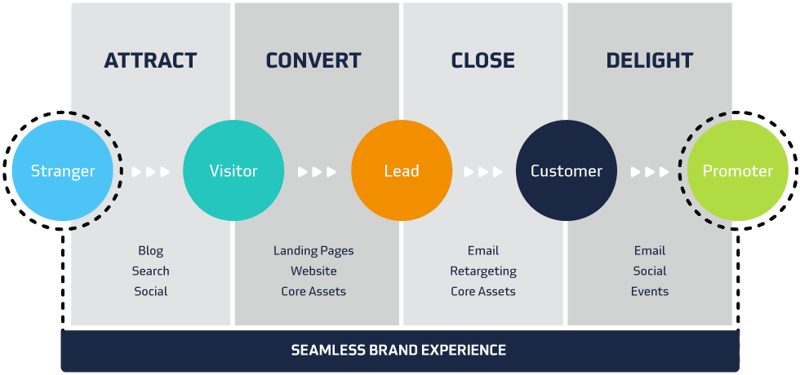 The best part about inbound marketing is that it doesn't just attract people to a website, it also nurtures them through the buyer's journey, and continues to help, support, and empower them after becoming a customer.
What is an inbound marketing campaign?
Inbound marketing campaigns are organized and strategic efforts that include a combination of content marketing, email marketing, pay-per-click ads, social media, and more to promote a specific message that resonates with a specific buyer persona in a way that compels them to take action.
Here's an example.
Let's say a used car dealership wants to create a marketing campaign around a concern that many potential buyers have in common: What should I look for when buying a used car? This inbound marketing campaign, then, will need content to support and promote this concept.
So, to flesh this out a bit, let's say they decide to create a guide called The Top 10 Things to Consider When Buying a Used Car. This guide could highlight the things shoppers should look for in a car (acceptable mileage, good MPG, working air conditioning, etc.) as well as some to avoid (visible rust, a transmission that doesn't shift smoothly, visible oil leaks under the car, etc.). A guide like this would be a useful resource for someone looking to buy a used car but has limited experience and wants to make a good decision.
The Top 10 Things to Consider When Buying a Used Car guide would be placed on a page that requires personal information — most often name and email address — to access. This page is called a landing page. The dealership would then promote this guide on their website and by sharing the landing page link in their email correspondence and on social media channels (and potentially through paid online ads).
The goal is to make the guide so valuable that someone would be willing to give their email address in exchange for it. When this is the case, the recipient feels good because they got something that will help them, and the dealership collects the name of a highly-qualified potential customer.
When a marketing campaign like this one is done right, it positions the dealership as helpful, trustworthy experts, and it is an effective way of capturing qualified leads. Plus, it provides value to the reader by offering beneficial advice while answering their online search query. Everyone wins.
What are the key elements of an inbound marketing campaign?
An inbound marketing campaign traditionally has seven key elements. Each is listed below with a short description of what it is and how it functions within the campaign.
Content offer: A content offer is a downloadable item (like the guide in our example above) that is interesting and valuable enough to your target audience that they'll want to download it. Content offers can be white papers, checklist, ebooks, guides, webinars, etc.

Landing page: Unlike web pages, which typically have many goals and encourage exploration, landing pages are designed with a single purpose: to encourage people to fill out a form in order to get an content offer. It's this focus that makes landing pages the best option for increasing the conversion rates of your inbound marketing campaigns.

Thank you page: When a website visitor converts on your landing page form, it's an inbound marketing best practice to direct them to a thank you page (a.k.a. a confirmation page). There you can thank the user for their interest, provide a direct download of the content offer, provide access to the navigation again, and offer clear next steps (e.g., follow our blog, sign up for our email newsletters, etc.).

Follow-up email: A follow-up email is often a short automated email that provides another point of access to the content offer from the user's email inbox and presents another encounter with the lead. Remember, it takes an average of seven interactions with your brand before a purchase will take place.

Lead nurturing email workflow: A lead nurturing email workflow is a sequence of automated and personalized emails that strategically nurture the user through the buyer's journey.

Blog posts: Ideally, each content offer is supported and promoted by at least three blog posts over the course of a quarter. They could function as a series or stand-alone posts. Use CTAs within the post to advertise the content offer. Provide as many ways as possible for people to find your content offer and download it. Blog posts are great for accomplishing this, plus they are yet another way to provide high-value content to readers and potential customers — and, if optimized, they can rank well in online search.

Social posts: Another way to promote content offers is through social media. Create some posts that link to the blog posts that promote your content offer and others that link directly to the content offer landing page.
Now, onto the sequence of these pieces. Typically, these pieces are created in a specific order, like the one mapped out here.

However, the content offer is most often revealed in a different order than the way it was created. The delivery often looks more like one of these.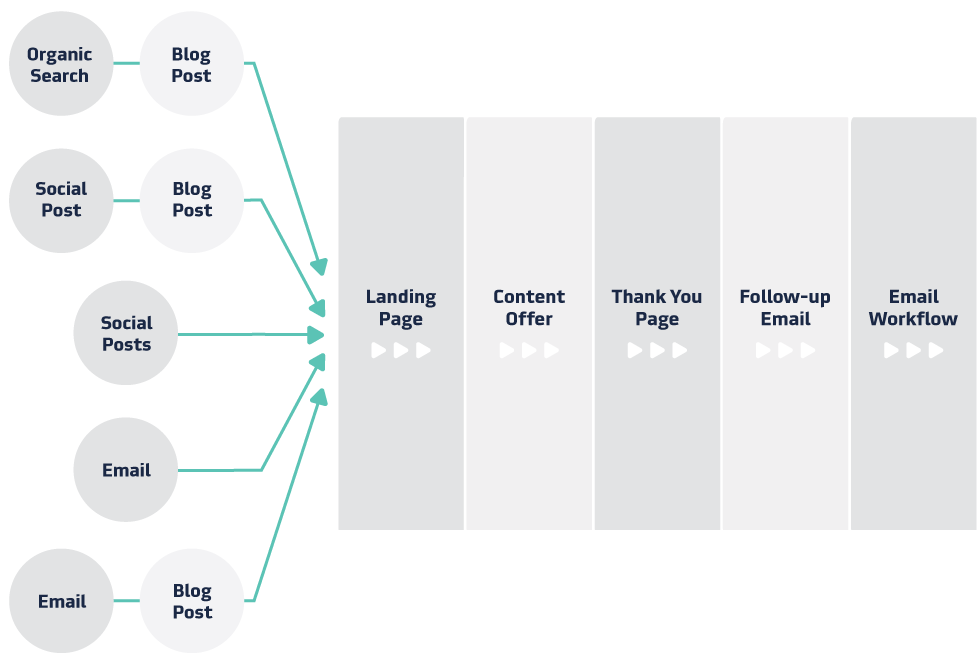 How do you create an inbound marketing campaign?
Now knowing what an inbound marketing campaign is and all the elements that need to be included, here are the steps you'll need to take to create your campaign.
Create a strategy: Start your marketing campaign plan by determining what you need to accomplish. Maybe you're focused on building brand awareness, generating B2B sales leads, or supporting distribution partners.
Identify your audience: Understand who you're targeting. Consider your buyer persona and their goals and pain points as you create your campaign so your content is helpful and relevant.

Set goals and benchmarks: Having SMART goals can ensure you'll have tangible results to share with the world (or management) at the end of your campaign.

Create the content offer, landing page, thank you page, and follow-up email: While there are many types of content offers, the most commonly used is a PDF like the guide created by the used car dealership in the example. The guide you create can live in your CMS (content management system) and be linked to your landing page and thank you pages once those are built and published on your website. Regarding your landing page, don't forget to optimize it for SEO, deliver a clear value proposition, and include a form for the user to complete in order to get the offer. A follow-up email should then be created and set to send once the landing page form is submitted.

Build lead nurturing workflows: Your campaign doesn't end when a lead converts on a landing page. Plan and build follow-up emails that will nurture leads through the sales funnel.

Write a blog post: Your campaign is awesome – don't hide it from the world. Use your blog as an opportunity to introduce readers to the valuable content they'll find in your content offer.

Share on social media: Promote your blog posts and content offer through your social media channels.

Consider paid search: Other channels like PPC and social ads can be a part of your inbound campaign, too – just be sure to measure the effectiveness of these channels.

Track your URLs: Find out where your traffic is coming from, and how visitors are finding you. Google Analytics can help you with this. Also, check your website platform to see what metrics it offers. Any data you can collect, the better.

Report on your results: Hard work shouldn't go unmeasured. You set SMART goals at the beginning; now celebrate your success. Organize your numbers then show them off! And, if you need to make adjustments to improve performance, now is the ideal time. If your marketing campaign is evergreen, then you want it to continue to attract readers. Keep it relevant and make adjustments based on the data you collect.
There are a lot of pieces to an inbound marketing campaign. That's why we created a downloadable checklist that includes all of these steps. It also has a section dedicated to your target due dates so that you can track and measure your progress. Use this checklist to build your own custom inbound marketing campaign that generates leads.
For some companies, a checklist like this is all that's needed to get the ball rolling. However, if you don't have an internal marketing team or you only have one in-house marketing professional, we'd love to help you start your first inbound marketing campaign.
We specialize in helping B2B and manufacturing businesses create compelling and targeted inbound marketing campaigns. We even have tools that we can recommend to make campaigns easier to create, manage, and analyze. To learn more, contact us or schedule a free consultation. There's no risk in gathering more information, right?
Imagine how great inbound marketing campaigns could help your business gain traction. With the right strategy, your company could connect with a larger target audience, which is the first step in increasing the number of qualified leads who have a high potential of turning into customers.