Economists and talking heads have been warning of an impending recession steadily, though the warnings are somewhat less dire than they were a few months ago. Consumer spending has stayed steady, but several factors in the works may cause it to lower later this year, including the government restarting student loan payments.
Have you had trouble closing deals or generating interest in your business recently? It could be because of the economy, consumers pinching their pennies, or any number of reasons, but thankfully, there are a few trustworthy ways to grow your business no matter what's going on in the larger economy.
To determine how to build brand awareness and grow your business, you can use the Ansoff Matrix, which is a strategic framework. A Russian entrepreneur, H. Igor Ansoff, published the matrix in a 1957 issue of the Harvard Review. The Ansoff Matrix is a framework for determining which of four possible strategies a business should pursue in order to expand. It is most often used during the process of formulating a marketing strategy.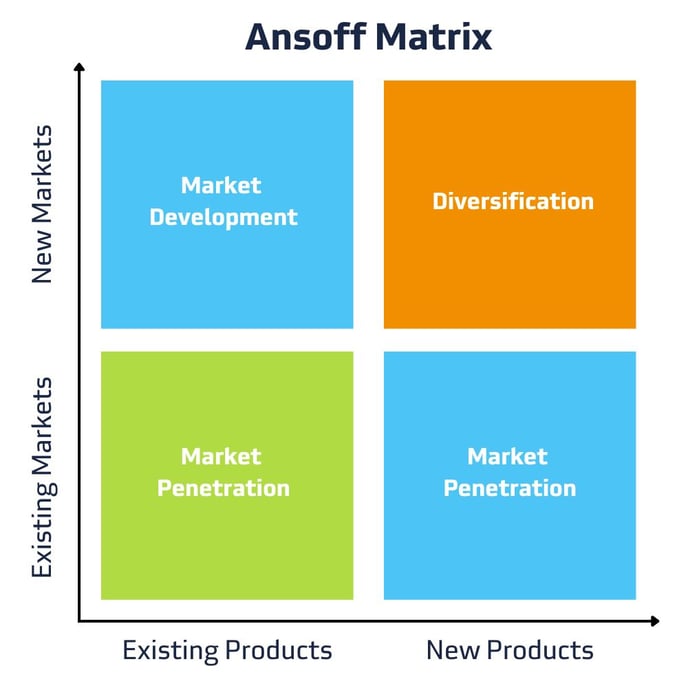 Management uses the matrix to determine which strategies have the best chance of being implemented. The next step is for them to figure out what strategies would best serve their marketing goals. They may use more than one tactic to expand into new customer bases.
The framework helps businesses know which of the four strategic directions they must take to grow their business successfully. The matrix's x & y axes are existing markets, new markets, and existing products and new products. It also helps businesses know the risks of their potential actions.
The four directions are market penetration, product development, market development, and diversification. This article will examine each direction and how it can help your business predictably grow, even when the economy is sluggish.
Strategy 1: Market Penetration
Pursuing market penetration is the first and safest option in the Ansoff Matrix. This means selling more of your products or services in existing markets or to an existing customer base.
It's a great approach if you know you can reach deeper into your existing markets, for example, if you have more opportunities you haven't yet taken advantage of or haven't yet needed to do so.
This approach is also the fastest way to expand your business because it is with a known product and audience. You should already be familiar with the risks and rewards of this action because you have done it before. You might even know how to improve upon past efforts already.
One example of market penetration is working to reach your core audience better. When we take on a new client, we do this for them immediately because it provides quick and easy benefits to their business. We help businesses increase their reach to their core audience by adding more marketing channels and increasing & improving their messaging across the board. This also includes writing content to help the business show up in search results for keywords they are already relevant for.
Another way market penetration can be achieved is by encouraging your target audience to pick your product or service over a competitor's. You can improve your product, lower prices, or add features.
Strategy 2: Product Development
Product development means creating new products or services for your existing market. This requires more knowledge. You need to have the capital to conduct product development. Furthermore, you have to know your audience and their problems to be able to create new items that will solve them.
For example, if your business builds machinery to help package products, you could add a label printer to your line or another brand-new machine that also assists in labeling the products. When you are conducting this kind of product development, it should complement what you already do. This way, it will take a modest amount of development, time, and money to get out the door and on your shelves.
The second plan of action entails more risk than the first. The time and money spent on creating and promoting a product should be increased. However, consumers' reluctance to try anything new can lead to pushback against such items.
You can also do this with other products and services you offer. Maybe you are a manufacturer that offers service for parts that can be replaced where you as a business send that out. These are points that are great for your business. If you offer them, consider helping them push in your product development to be successful in tough markets.
The standard rule of thumb for successful product development depends on the following:
The research skills and market acumen to understand what consumers want, and;
The ability to generate fresh ideas and create items in-house
Strategy 3: Market Development
The third strategy of the Ansoff Matrix is selling your existing products to new markets. Consider who else could use your product, whether it's a new audience or people in a different geographical area.
This strategy can take longer than the first two, especially if you are truly unknown in this market. You will need to know if the new market is a good fit for you, so you must take time to define the audience and get to know them. You should conduct competitive research in the market you're going after.
Sometimes, entering a new market necessitates starting from scratch with your strategy. When expanding into new areas, businesses need in-depth data from market research such as the following:
Analysis of the Macro Environment Using the PESTEL Framework
Market segmentation: employing various strategies to determine the most lucrative market subset.
The demographics of a consumer: their likes, dislikes, spending habits, and income.
Current vs. future market size, trends, and expansion
To what extent can a new market be exploited profitably
The intensity of competition is measured, for instance, using Porter's Five Forces model.
How the business should distribute its products and disseminate its message to attract new clients.
An example of market development is expanding your service area or adding a new industry that would fit your product offerings well. We often use this strategy for our clients to reach their target audience in that industry or service area and build them up over time. Once the initial development has taken place, they often move into more of a market penetration strategy.
Strategy 4: Diversification
This, the fourth segment of the Ansoff Matrix, is the strategy that represents the most risk. It means entering new markets with new products or services. Businesses may follow two main paths when implementing a diversification plan. They are known as synergistic diversification or conglomerate diversification.
The business draws on its previously gained expertise as part of synergistic diversification. It is typical for new markets and products to form around already established ones.
Because the business already has the expertise to accomplish its goals, whether they be related to manufacturing, marketing, or the expansion of distribution channels, the risk associated with synergistic diversification is minimal.
Conglomerate diversification, however, included an altogether new field. The corporation is likely to create it in-house. It might be time-consuming and costly, but it ultimately increases revenue.
Acquiring competing businesses in emerging areas is still another option. While acquisitions have the potential for quick expansion, remember they are not always successful.
Diversification is the hardest to pull off because you are simultaneously dealing with the new elements of a new audience and a new product. Before you jump in, you should have both clearly defined with a value proposition. You must also be willing to work hard to make this new endeavor successful. One of the drawbacks of this is that it can take attention away from your core offerings. You will need a dedicated team to make it work.
Using the Ansoff Matrix For Business Growth
The Ansoff Matrix is a helpful tool for businesses that are developing growth plans. It allows you to examine the options and evaluate them based on their risks and rewards. It's insightful and clearly understandable for every member of your team, even if they don't have background knowledge of marketing. It also lets teams understand each strategy's inherent risks easily.

The simplicity of the Ansoff Matrix does have some drawbacks. It lacks the context in which your strategies will be deployed, for example, your competitive strategy or product life cycle. You must elaborate further if you compete with other businesses in the market.

Another thing to consider is that the matrix may not always accurately predict how your customers will react to the growth strategy. For example, lowering prices as a market penetration method may not work because competition has lowered their prices more aggressively, or a higher price point was part of the psychology behind your product.

While risk is always a part of conducting business, the Ansoff Matrix can help you assess some risks while trying to grow your business.

Igor Ansoff's matrix has remained a dynamic tool for business growth over the years because the tool, with its four options of market penetration, product development, market development, and diversification, allows you to get a start on deciding which direction will ultimately be the best thing for your business. Whether you choose the safest option of market penetration or stride into the unknown waters of diversification, you will be better prepared for the risks and rewards when you consult the Ansoff Matrix.

If you seek more confidence than even the Ansoff Matrix can give you, get started with us today. Our proven methods for business expansion will allow you to grow on purpose.