What Is A Diversification Strategy?
There are four major growth strategies for expanding business; market penetration, market development, product development, and diversification. A diversification marketing strategy increases growth and profit by transitioning or expanding a business's products to a new market.
Commonly, a business might use a diversification strategy to stand out from its competitors. This strategy is known as offensive diversification. On the other hand, a business could utilize defensive diversification if they've been under extreme pressure to increase its profit and grow.
When a business uses diversification, it can shift from its current market focus to a new one. Though a risky form of growth, diversification can provide exceptional growth for the organization as it reaches a new audience and makes a name for itself in an entirely new market.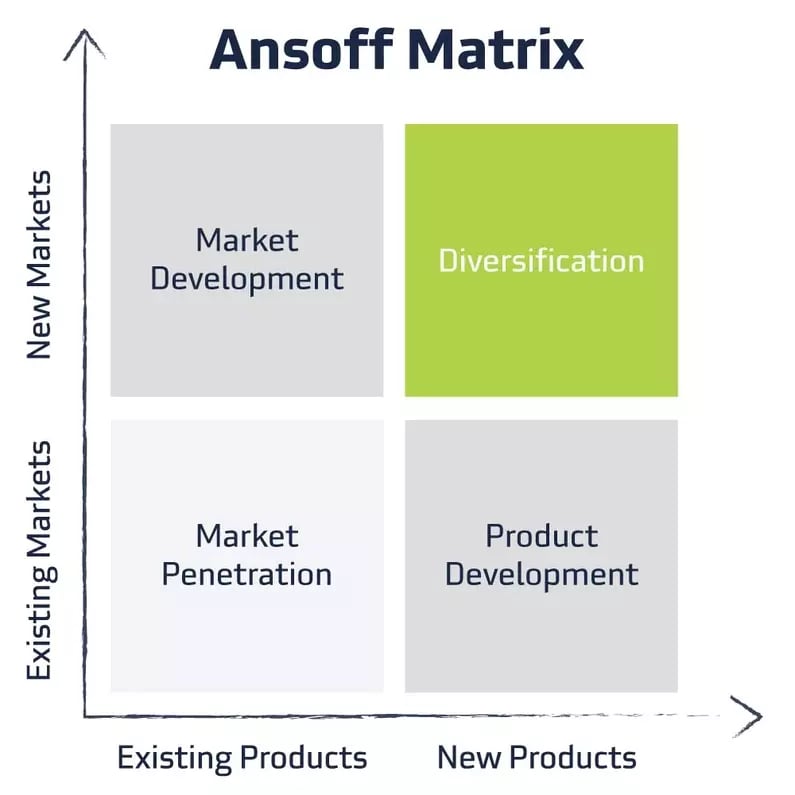 Source: G2
Shift Into A New Market
There are three types of diversification; concentric, horizontal, and conglomerate. When a business is making a move into a new market, using every kind of diversification can propel it towards a successful shift.
Here's what you need to know about each type of diversification and how it can help your brand shift into a new market:
Concentric Diversification
Concentric diversification is the development of new products and services similar or related to the ones you already sell. When a bread business releases a new type of bread or a coffee business releases a new coffee drink, this is concentric diversification.
A business that seeks to grow by simply adding new products to its existing line and market can use concentric diversification. They can improve their product line to expand their reach and grow their customer base.
Horizontal Diversification
Horizontal diversification is the development of new products that are somewhat related to your original ones. The products or services developed under a horizontal diversification strategy are new but will be irrelevant to the business's initial offerings. The latest products essentially expand what the business offers to customers, making their business more valuable.
For example, equipment manufacturers offering filling machines can use horizontal diversification by adding a capping machine.
Using horizontal diversification, a business can reach a wider audience and appeal to a new market. Horizontal diversification grows a business across market lines, as new product offerings often appeal to a target market uninterested in previous offerings while still relating to the core business.
Not only will new product lines extend the value of the business into a new market, they will also appeal to existing customers. This is also essential to ensure customer retention and brand loyalty.
Conglomerate Diversification
With conglomerate or unrelated diversification, a company develops new products unrelated to its original ones. This strategy could look like a clothing company that starts to sell toys or a beauty product company that starts selling food.
While conglomerate diversification can be risky for many organizations, it can also have a massive payoff if done well. Businesses that attempt to use conglomerate diversification will need a much greater product creation, development, and marketing output. The new product line will penetrate a new market, requiring great strategizing and intentional advertising.
The risk of conglomerate diversification lies in the difficulty of breaking into unrelated new markets where your business may not be known. As mentioned above, conglomerate diversification is riskier. However, the potential for success and breaking through to new markets sometimes make conglomerate diversification a worthwhile risk.
Turn Your Diversification Strategy Into Reality
If you want to expand your business into a new market, using one of the three diversification strategies can help. Diversification will bring more value to your business, creating deeper loyalty from current customers and making an entirely new market aware of your brand.
Understanding diversification and how each type can impact your business is the first step in new market penetration. Once you understand how diversification works and what it can do for your brand, you'll be ready to brainstorm ideas and turn them into reality. If you are looking for help understanding where your business has opportunities take our Growth Assessment. It will help you uncover missed opportunities to get your business growing.