GROWTH PROGRAM
INBOUND MARKETING
Attracting right-fit companies to your business through the power of inbound marketing.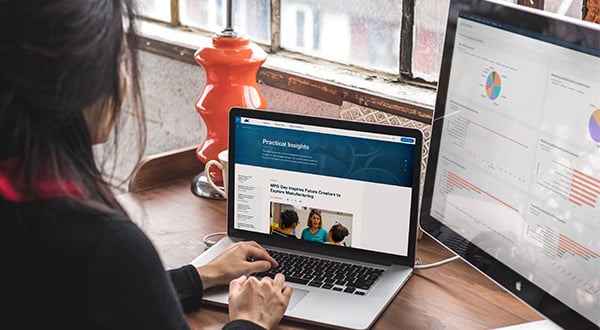 Inbound marketing helps your businesses gain traction by effectively educating and nurturing your audience.
The modern B2B buyer shops differently today than they have in the past. With increasingly more selections available, buyers are spending more time researching and comparing options. In this digital age, your business must be relevant, competitive, and easy to find. To drive competitive growth, you have to educate buyers on how your company offers a solution to their problem. By providing high-quality content across all digital channels, you attract potential customers by providing helpful answers to their pressing questions. While creating an innovative and strategic marketing plan primed with expert technical content might seem like an overwhelming task — it's all possible, and we're here to help.


Common Challenges
Your current marketing efforts aren't effective in gaining the attention of enough qualified leads.
You often experience a fluctuation in the volume of leads your sales team receives.
You want to improve the quality of leads coming from your organic traffic efforts.
Your sales team spends a large amount of valuable time educating prospective customers on common questions.
You want to educate your customers, but your industry experts don't have time to write and manage the content.
Common Inbound Marketing Needs
Organic Search, SEO, & Local SEO

Paid Search, SEM, & PPC

Digital Marketing Strategy

Retargeting & Display Advertising

Content Marketing

Social Media Advertising

Email Marketing & Marketing Automation

Website & Digital Marketing Audits

Ongoing Analytics Review
For successful and repeatable results, businesses need a multi-pronged marketing approach.
Through high-quality, consistent efforts, you can expect to see a high-quality, consistent payoff.
From niche market websites to various social platforms, your buyers spend a significant amount of time on the internet. This is why marketing plans should include online strategies that target buyers where they spend their time, delivering the right message at precisely the right time. Being in front of them early and often is key with longer, more complex buying cycles. But you can't be everywhere at the same time. Or can you? Inbound marketing is a multi-pronged approach designed to reach your audience and guide them through the buyer's journey. Over time, this proven process produces consistent results that continue to pay off in the future.
---
Content Marketing
Your buyer is hungry for valuable content. We'll help you plan and create content that will attract and engage your prospects, setting you up with qualified leads who are ready for sales conversations.
---
Email Marketing
Email marketing reaches an already engaged audience pushing them further down the buyer's journey, steps closer to making a purchase. These messages are highly targeted and are often a direct driver of revenue. We can help you consistently capitalize on your email lists to grow your bottom line.
---
Social Media
Finding the platforms on which your audience spends their time is key to unlocking social media's true potential. Posts, ads, audience groups, and targeted messaging can be powerful tools to reach your ideal buyer. We can help you write relevant posts that resonate with your target audience, compelling them to respond and engage.
---
Organic Search
Uncovering more organic and relevant search traffic is usually at the top of everyone's list. Inbound marketing, which includes the above strategies paired with on-site and off-site optimization and smart SEO strategies, will improve your overall search ranking and attract the right audience.
Create thought leadership, generate leads, expand engagement, and build your marketing machine through inbound marketing.
Inbound marketing is the perfect complement to traditional marketing, making them a mighty duo.
Expand and optimize your marketing efforts by adding inbound strategies into your marketing mix. It doesn't matter if you have an expansive marketing operation or an ad-hoc system; adding inbound marketing can create the consistency you need to drive ongoing results. This B2B digital marketing offering fits nicely into most existing marketing teams. It's a compliment to your current marketing efforts reaching a specific niche of targeted prospects to boost overall results by educating them through multiple touchpoints that ultimately lead to an increase in the number of qualified leads your sales team receives.
Our Inbound Marketing Process
Our time-tested process is a systemized approach to creating consistent, high-quality inbound marketing assets that set up your company for success and continuous growth.

Immediately, our experienced team will employ a mix of inbound marketing strategies that result in quick wins while a customized, broader strategy is created to grow steadily, nurturing curious prospects into qualified leads over time.

Our process focuses on capturing the right website visitors so that effort isn't wasted on audiences that can't be converted. Since we're an extension of your team, we're committed to ensuring marketing efforts are effective and efficient, making your sales team's job easier. To ensure your inbound marketing is gaining traction, we include regular check-ins and analytics meetings to review projects, discuss trends, and evaluate strategy.


Take the First Step to Creating Predictable Growth
At TANK, we believe that creating consistency for customers and working as one team across all departments creates a smooth path for full-throttle marketing. To get started, fill out the form on this page and book a meeting.
Request your free consultation.
We'll talk about your business, inbound marketing opportunities, and growth goals. During the call, we'll determine if we're a good fit, provide some practical marketing tips, and establish appropriate next steps to help you move forward.