B2B E-COMMERCE WEBSITE
Streamline your sales efforts by enabling customer self-service purchases.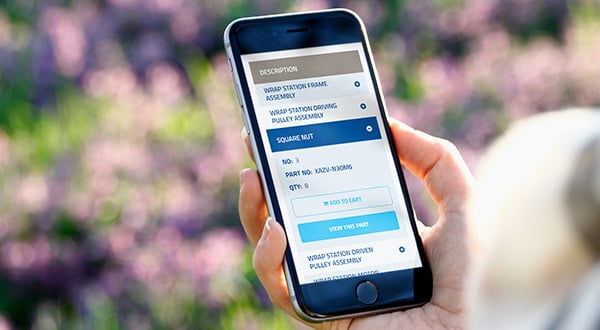 Everything you need to help your buyers actually buy.
The modern B2B buyer has high expectations. They expect a frictionless and customer-focused buying experience. They want to find pertinent information on the website quickly and watch videos that show how products/services work so they can decide whether or not to purchase. As a B2B company, it's a necessity to provide outstanding customer and user experiences. Your e-commerce website must simplify transactions and capitalize on repeat buyers who already know what they need. Our approach to e-commerce websites organizes your products/services using the smartest e-commerce functionality, making it easy for site visitors to find what they need, offer a clear purchasing pathway, and funnel information seamlessly into your operational processes.
Common Challenges
You want to free up your sales team's time to focus on building client relationships.
You have opportunities to streamline repetitive client purchases that don't require sales assistance.
You have a distributor network or buyers that need different pricing tiers.
Your product offerings are unorganized and lack the structure necessary for buyers to purchase easily.
Common E-commerce Website Needs
E-commerce Website Design & Development
ERP Integration
Marketing Integration
Google Shopping Integration
Analytics & Reporting
Wholesale & Tiered Pricing
Sell more and reduce friction by bringing efficiency to your team.
Your sales team's time is precious — safeguard their valuable time by eliminating repetitive sales calls.
Unthrottle your sales team. Allow them to do more outreach and relationship building by enabling e-commerce purchases, including products, replacement parts, or aftermarket upgrades. An e-commerce site can save your team time, ensure you never miss out on a sale, and bring in more revenue for your business.

Our experienced team knows how to create a smooth customer buying experience, even if your buyers need different pricing based on negotiations. Our team will make sure your e-commerce site offers consistently great user experiences and takes your online business to the next level.
72%


of sellers expect the majority of their business revenue to come from e-commerce sites by 2025.


TANK New Media's Project Initiative program is a time-tested process that enables the design, build, and implementation of e-commerce websites to quickly take businesses to the next level.
---
E-commerce Design & Development
Our team of experts will help you organize your products into an easy-to-use structure so buyers can quickly find whatever they need. Our design systems enable the site to seamlessly expand as your product line grows. This systematic way to design and develop gets your site up and out of the door on time and on-brand.
---
CRM & ERP Integration
Keep your site inventory and databases always up-to-date by integrating your ERP software or your CRM software. An integrated system for your inventory and contact databases allows you to manage your inventory in one place, saving valuable time and resources.
---
Marketing System Integration
Once you've captured the attention of potential buyers, don't miss out on an opportunity to convert them into customers — even if they're not ready to buy right away. Stay top of mind and increase the chances of purchase by sending abandoned cart reminder emails, create retargeting ads, and more. By integrating marketing and e-commerce, you'll get the most out of every interaction.
80%
of B2B buyers are not only looking for but expect a buying experience like that of a B2C customer.
Building better businesses through better B2B e-commerce experiences.
Take your business to the next level and expand your sales reach by adding e-commerce purchases to your existing online presence.
Customers are looking for a buying experience that rivals even the best. Creating a smooth, simple process allows your customers to buy the way they want to buy. It doesn't matter if you have an existing website that needs an e-commerce counterpart or need a stand-alone commerce solution, there's a world of possibilities to help extend your sales reach. B2B e-commerce is a great way to expand existing product lines, sell replacement parts, or add services. The opportunities are endless. Being able to expand continually gives customers a reason to keep coming back.
Our B2B E-commerce Website Design and Development Process
Our time-tested process is a systemized approach to creating a consistent, high-quality e-commerce site that sets your company up for success and lays the foundation for continuous growth.
Our experienced team will create your e-commerce site to meet your business's specific needs and to ensure online sales take off as soon as possible. The system we build for your products will be consistent, intuitive, and virtually friction-free, making the purchasing process smooth.
Because we're an extension of your team, we're committed to ensuring your B2B e-commerce website strategy and design is effective and efficient. To make sure everything is working succinctly, we'll meet regularly to review projects, discuss results, and evaluate progress.


Take the First Step to Grow Your Business Through Online Sales
At TANK, we believe that creating consistency for customers and working as one team across all departments creates a smooth pathway for full-throttle marketing. To get started, fill out the form on this page and book a meeting.
Request your free consultation.
We'll talk about your business, e-commerce needs, and growth goals. During the call we will determine if we are a good fit, provide a few tips, and establish appropriate next steps to help you move forward.