One common problem with our clients with a physical product, usually in the manufacturing sector, is the clunky order hand-off between sales, production, and distribution. Companies with a manual process for processing orders find the charges hard to track, have lots of room for manual error, and often involve passing paperwork through multiple departments.
Often, we find ourselves helping these sales departments streamline their workflow process. They are set up in the CRM, have automated processes, and nurturing to help them close deals. But what happens after the sale closes? They often have to manually fill out an order sheet and walk it to production to turn it in. We felt like there had to be a better way. So we devised a plan to reduce manual double effort, keep data in one place, and connect the departments.
Transform Messy Hand-offs into a Clean Process
Let's take a realistic look at how automating the order process from start to finish had a material impact on a client's day-to-day operations. HEPACART®, a manufacturer of infection control and dust containment systems, came to us looking to create a more efficient process for order fulfillment.
Their Original Order Process Looked Something Like This:
The sales team closed a new deal within HubSpot.
Sales staff manually filled out order paperwork, including re-writing the information already stored in their CRM causing duplicate efforts.
Sales staff physically walked the printed paper order over to production.
Production completed equipment build and prepped for shipping.
Production filled out an online form that notified the shipping team of an order shipped.
Customer service opened a HubSpot ticket to track the order until they knew the customer was happy.
Manual reconciliation process at the end of the month for what was ordered, shipped, billed, and completed. (This process involved two systems and a manual paper trail).
All-in-all, the process was balanced. The challenge of the process was that their team was wasting time on manual double entry, which, while time-consuming, also created many opportunities for manual error.
We were determined to find a solution to increase efficiency, reduce the opportunity for error, remove barriers between departments, and allow for greater visibility across the company. Because they had a clear process already, we could look at what was and was not working and establish an updated process that leverages automation.
The New Process Looks Something Like This:
The sales team captures order information in the deal in HubSpot, and a deal is closed in the sales pipeline.

Using the HubSpot CRM and Content Management System to pull deal values, we created an internal, password-protected webpage that lists all orders and can be sorted by status. Once a new deal is closed, it is added to the internal list webpage, and an order-specific detail webpage is generated.
The detail page now auto-generates the deal information that had to be manually filled out. The deal information from HubSpot completes the order sheet, and it's now ready to queue into review or production.

The production team is notified via an automated email of a new order. They login to the order list view, run the order through production, and change the status to ready to ship. When they are done, the shipping department automatically sends an email notification.
When the deal closes, a service ticket is automatically created through the HubSpot Service Hub. At this point, shipping logs in to HubSpot and fills in shipping-specific details like tracking number and carrier. This is another spot where order information is automatically carried over from the original deal, so the shipping department doesn't have to manually fill in all the order information again, only the new information.
Finally, the order is marked shipped, and the Service Hub ticket automatically moves to the customer service pipeline for the team to follow up on the delivered products and ensure invoicing is completed.
The biggest change from their original process is that all the elements are now connected to the same original order reducing the amount of duplicated efforts and entries. Providing a single source of truth for what is happening with a customer and their order, this makes it easier to track and less prone to error.
Achieve Smooth Hand-offs With Easy-to-use Automation
With a new, centralized order website, at any point, team members can log in and see where the order is in the process. This has dramatically improved all communications that have been happening with the customer. It also allows the team to provide a better internal and customer-facing purchase and fulfillment experience. It creates a seamless transition between departments with a more efficient, less error-prone process for data entry.
Additionally, this process created a lot of clarity for their leadership team, allowing them to know the status of all orders at all times while helping improve the workflow for the rest of the team.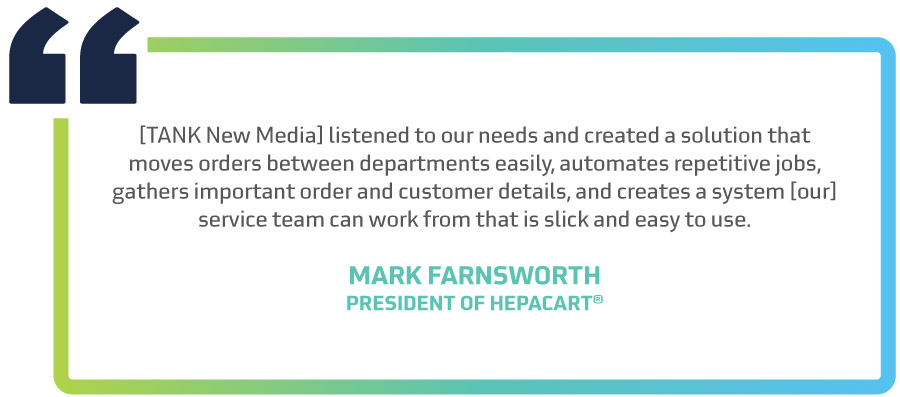 Eliminate Friction By Automating Processes Across Your Systems
TANK New Media can help identify weaknesses and create custom solutions built to help your process flow smoothly with minimal downtime. We then work to implement those automated solutions for more than just order fulfillment processes. Our team can help you automate any process that would take a HubSpot deal and create a printable PDF.
If you feel friction in your organization when passing paperwork or need additional transparency across the board, let's discuss how this solution can help your business run smoother.